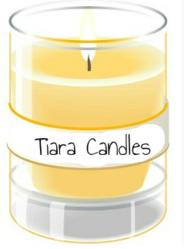 What a great value!
San Francisco, CA (PRWEB) April 18, 2013
This promotion will see clients receive up to 100 times the value they spend on one candle, delivered in the form of hidden jewelry from Diamonds, to Ruby's, gold and more.
Already excited about the concept, clients have begun trying their luck, with the CEO commenting that "When the candle burns down, you will be able to find & unwrap a foil package with your jewel inside."
Crown Candles has already differentiated itself in the candle business by offering environmentally friendly soy wax based candles that are also scented and come is a great assortment of colors and a jewel surprise.
In addition to producing candles with soy wax, a form of processed soy bean oil, Crown candles also use 100% recycled packaging papers, while eliminating the use of lids on candles, which according to research, are not used in two thirds of all purchases.
About Crown Candles
Since they were founded in 2010, Crown Candles have spread cheer among their clients with novelty candle soap and candle gifts which have held toys, money and knick knacks.
Crown Candles ingeniously chose soy wax which releases fragrances naturally for longer and can last up to 50% longer that ordinary parafin waxes. Not only does that mean you have a more economical product, but in case you want to recycle your candle jars for something else, soy wax is water soluble and can be cleaned using hot, soapy water.
Always eager to impress their customers, Crown Candles made a novel move ahead of their competitors by including more useful hidden items for their clients with a combined retail value now at up to $5000.
Clients can expect gifts from the Tiaras including coupon codes for discounts, gift cards for crown candies, cash for between $5-$100 and Jewelry up to $300 worth.
Now clients can choose form products that they enjoy and also expect a surprise hidden in the environmentally friendly candles. You can shop by even, holiday season, food, relationship, or fun- Crown candles has a candle for every occasion. Crown Candles products can be purchased online at http://crowncandles.com.