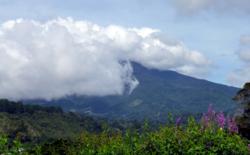 you were the only treatment center I could find that seems to take nicotine addiction as seriously as other forms of drug addiction
Boquete, Republic of Panama (PRWEB) April 18, 2013
Nicotine is the deadliest addiction, worldwide killing 1 person every 6 seconds. More people die of tobacco related deaths than all other drug addictions combined.
Serenity Vista addiction recovery retreat announces today the decision to not only be a smoke free environment, but to treat nicotine the same as other addictions. They tell Sally's story to illustrate why. "A professional woman we will refer to as Sally called from Canada, willing to go to any length to face her addiction to nicotine. She has tried dozens of times, over many years, to stop on her own, but has been unable to stay stopped".
"She reached out for help. She called several treatment centers throughout North America to ask about treatment for her nicotine addiction. She was laughed at. Telling her that they are for 'drug and alcohol addiction', she was dismissed as not being serious."
Sally's internet research showed that going to a traditional treatment center can be a very smoky, nicotine filled affair, even if she were accepted. In fact, she learned, very often it is the staff and facilitators that come to group counseling sessions reeking of cigarettes.
She called Serenity Vista, telling them that "you were the only treatment center I could find that seems to take nicotine addiction as seriously as other forms of drug addiction". She is right. Nicotine is a drug, a very powerful one, and actually one of the hardest addictions to overcome.
Serenity Vista addiction recovery retreat is leading the way in treating nicotine addiction with the same seriousness and passion as for other forms of addiction. People can't go to treatment 'just for cocaine', and drink alcohol while at rehab, yet that is how most treatment centers treat nicotine addiction.
At Serenity Vista, everyone is assured of a smoke/nicotine free environment. In fact, Panama, home to Serenity Vista's rehab facility, as a country, has very little smoking, even outside of the AA meetings in the local community of Boquete.
It is commonly heard in the recovery community how smokers (nicotine addicts) are triggered and have cravings often leading to relapse at AA or NA meetings, having to walk through the wall of tobacco smoke to enter the building. Very ironic. Of course, it is a lot better than the old 'smoking' meetings of bygone days, where newcomers were given the job to wash ashtrays.
When Sally contacted Serenity Vista about their smoking cessation program, she was treated seriously, with respect and compassion. John Derry, Director of Serenity Vista, explains: "We are an 8 bed facility that treats addiction, regardless of the drug, substance, or behavior characterizing the expression of the addiction. Like other addictions, nicotine use is a symptom of a dis-ease. It is the disease we treat, not just the symptoms".
"We coach people to smoke their last cigarette and apply the patch before getting on the plane. The patch assures that nicotine is removed in a gradual way that is not controlled by the person's cravings (unlike gum or e-cigarettes).They arrive at Serenity Vista as non-smokers. A great way to start their new life of recovery".
At Serenity Vista rehab, addiction is treated in a holistic manner addressing all aspects of body, mind and spirit. Further specific support of the nicotine recovery process is through the tapering use of topical nicotine patches, acupuncture, and Nicotine Anonymous literature and philosophy.
Nicotine addiction is drug addiction. Period. If a person is smoking tobacco products, they are in active drug addiction. Abstinent, twelve step based, holistic residential addiction treatment is well known to give people who want it a great start at a new clean and sober life. The philosophy of Serenity Vista that differs from traditional treatment centers is that if nicotine is part of the equation, abstinence must also include being tobacco free.
Recent studies support this approach. According to Derry, "continued use of nicotine during and after the treatment process fuels the ongoing cycle of addiction and diminishes likelihood of treatment success. Yet for deep rooted emotional and cultural reasons, and resistance to change, this is rarely put into practice, and the reception Sally experienced prior to contacting us is sadly still the norm in the addiction treatment field".
Serenity Vista is boldly leading the way, and is prepared to go to any length to help those that are serious about full recovery from their addictions. Even if that means going against convention, and risk loosing potential clients.
"We'd rather facilitate the full, long term recovery of a few people to achieve a full and rewarding life free of all addictions, than have a lot of people come through the doors and leave still addicted to smoking which is highly toxic and deadly". Sadly, larger corporate treatment centers, driven by profit and economies of scale hold on to what is more popular, not necessarily what is in the best interest of those they purport to serve.
Serenity Vista looks forward to the arrival of a woman like Sally tomorrow. She will be joining others, including 'Peter' from the UK, now 4 weeks into his 3 month full life recovery program, smoke free after decades of smoking two packs a day.
Background
Serenity Vista Inc. is a world-class alcoholism and other addiction recovery facility providing affordable, luxury rehab in the tropical mountain highlands of Panama. Their pristine, healthy location, integrative approach and highly affordable fee structure enable nearly everyone to experience the very best. With over 30 years of clinical expertise backing their internationally recognized program of recovery, they have merged the best practice treatment approaches and latest research findings to create a truly unique, leading-edge, optimally effective treatment for addiction. Their mission is dedicated to helping those seeking to embrace a new life of recovery after having lived with any form of addiction. This includes nicotine.
Built upon solid recovery approaches and Twelve Step spiritual principles, the focus is on renewal of mind, body and spirit. One to three month programs facilitate personal discovery, addiction recovery, and life transformation.