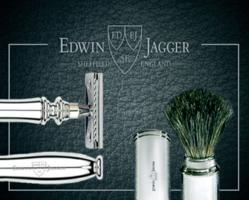 The World's finest hand made shaving accessories by Sheffield's Master Craftsmen
Toronto, ON, Canada (PRWEB) April 20, 2013
Stylish, innovative, and with impeccable craftsmanship, Edwin Jagger has built its considerable reputation on the manufacture of razors, shaving brushes and accessories, and most recently a line of shaving soaps and creams, now available from online retailer Kaliandee.
Founded in Sheffield in 1988 by Neil Jagger and named after his grandfather, Edwin Jagger is a company with its roots in the best that British craftsmanship has to offer. Sheffield has long had a reputation for the quality of its manufacturing, and it was in the design and manufacturing of Sheffield silverware that Neil Jagger began his career. Jagger's first razor was made in his spare time for personal use, but after quickly identifying a demand for quality grooming products, he immediately set up his own company and embarked on designing, prototyping and testing his first razor for production.
Although Edwin Jagger produces a complete range of shaving equipment and supplies for the wet-shaver, their strongest offerings are probably their entry to mid-level brushes, which are effective and of good value, and their DE8 series of double edge razors, available in a variety of handle finishes. Edwin Jagger's designs tend to be styled fairly traditionally but with subtle clean lines and curves that hint at their modern origins.
The excellent DE8 series razors are fitted with Jagger's shave head, designed in collaboration with Muhle and manufactured in-house. Most users find the DE8s to provide a slightly less aggressive shave than the Merkur equivalents, and the chrome finish is of a very high standard. One of the more notable brushes in their collection is their beautiful turnback design travel brush which comes in a distinctive and highly polished, nickel plated storage tube, which also functions as a handle. Edwin Jagger's offering also includes a variety of elegant and stylish three and four piece sets suitable for Gillette razors.
Recently complementing their range of razors and brushes are their Aloe Vera and Sandalwood skincare collections, with shaving creams, shaving soaps and soothing aftershave lotions, all discreetly but exquisitely fragranced and excellent on the skin. This luxurious and highly effective range of skincare products has cemented Edwin Jagger's position as one of the top brands leading the renaissance in traditional wet shaving.
Kaliandee is a Canada based online retailer of affordable everyday luxury, supplying skincare, shaving, fragrances, gifts and leather goods for the discriminating individual. To purchase Edwin Jagger's products please visit us on kaliandee.com and kaliandee.ca
For more information on getting started with wet-shaving, see Kaliandee's advice page.