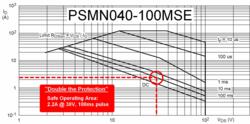 Eindhoven, Netherlands and Manchester, United Kingdom (PRWEB) April 17, 2013
NXP Semiconductors N.V. (NASDAQ: NXPI) today launched a new family of NextPower Live MOSFETs designed specifically for Power over Ethernet (PoE) applications. Building on NXP's strength in power MOSFETs, the new devices – PSMN040-100MSE and PSMN075-100MSE – provide twice the level of inrush current capability of competitive offerings, making them ideal for high-power PoE architectures (30W and above) such as PoE+, UPoE and LTPoE++.
PoE is becoming an increasingly popular way of powering devices through an Ethernet cable/port rather than using a separate mains supply. Initially used for low-power devices such as VoIP phones, new approaches including UPoE and LTPoE++ are enabling higher power devices such as large LCD PoS displays and 3G/4G wireless access points to run at up to 100 W. However, in such high power environments, the power sourcing equipment (PSE) – such as a network router, switch or midspan – can suffer serious damage if a short circuit or fault in the powered device (PD) causes a power surge that is not controlled in time.
These new, higher power systems are placing greater demands on the MOSFETs used to supply and protect such equipment. NXP's new NextPower Live PoE MOSFETs have a safe operating area (SOA) that is twice as capable as existing solutions, providing higher levels of protection and system reliability.
NXP's new PoE devices also offer very low RDS(on) and come in the ultra-reliable LFPAK33 package, which is footprint-compatible with similar devices.
"Power over Ethernet is a rapidly evolving technology that requires every component in the PoE ecosystem to keep up if it's to be more widely adopted," said Chris Boyce, MOSFET business manager, NXP Semiconductors. "New high-power standards require high-performance protection solutions. This new class of devices from NXP delivers twice the capability of existing PoE MOSFETs and we believe will play an important role in the ongoing adoption of high power PoE."
Links

About NXP Semiconductors
NXP Semiconductors N.V. (NASDAQ: NXPI) provides High Performance Mixed Signal and Standard Product solutions that leverage its leading RF, Analog, Power Management, Interface, Security and Digital Processing expertise. These innovations are used in a wide range of automotive, identification, wireless infrastructure, lighting, industrial, mobile, consumer and computing applications. A global semiconductor company with operations in more than 25 countries, NXP posted revenue of $4.36 billion in 2012. Additional information can be found by visiting http://www.nxp.com.
Note: All referenced trademarks are property of their respective owners.
Forward-looking Statements
This document includes forward-looking statements which include statements regarding NXP's business strategy, financial condition, results of operations and market data, as well as other statements that are not historical facts. By their nature, forward-looking statements are subject to numerous factors, risks and uncertainties that could cause actual outcomes and results to be materially different from those projected. Readers are cautioned not to place undue reliance on these forward-looking statements. Except for any ongoing obligation to disclose material information as required by the United States federal securities laws, NXP does not have any intention or obligation to publicly update or revise any forward-looking statements after NXP distributes this document, whether to reflect any future events or circumstances or otherwise. For a discussion of potential risks and uncertainties, please refer to the risk factors listed in NXP's SEC filings. Copies of NXP's SEC filings are available from the SEC website, http://www.sec.gov.