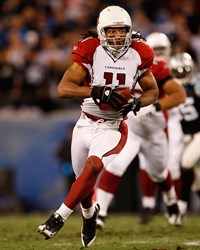 Phoenix, AZ (PRWEB) April 17, 2013
David Gergen, President and Founder of Pro Player Health Alliance (PPHA) is heavily involved with legendary NFL Greats and spreading sleep apnea awareness throughout communities by taking these players to the general public on the national campaign titled "Tackling Sleep Apnea." The "Tackle Sleep Apnea" event held tomorrow, April 18, in Phoenix, Arizona will include the likes of Arizona Cardinals superstar receivers Larry Fitzgerald and Roy Green.
With Larry having close loved ones from teammates to friends and family that are suffering from sleep apnea, he wants to help spread the word on the deadly disease and help the community to understand what it can do and how to get treated. Larry is hoping to find an outpouring of support from the public at the event with many people wanting to meet the players and eventually seek treatment for themselves and/or a loved one.
Roy Green has experienced two strokes and two heart attacks due largely in part to sleep apnea. Sleep apnea stops you from breathing up to fifteen times an hour during the night while sleeping, putting serious stress on the body and the heart. According to the National Commission on Sleep Disorders Research, about 38,000 deaths occur in the US on an annual basis that are related to Sleep Apnea making it the "Silent Killer." It is for this reason that over 100 NFL players, past and present, have reached out to Pro Player Health Alliance for treatment.
Gergen's Orthodontic Lab has developed another option to being treated for OSA through an oral appliance. What makes this different from CPAP is it aligns your jaw to keep your airway open and by creating a way for air to flow through instead of forcing it down, it provides a natural way to breathe. The Herbst Device for OSA made by Gergen's Orthodontic Lab is one of two in the country approved by medicare.
Due to such personal encounters with Sleep Apnea, Larry and Roy are inviting anyone in the public to register and attend this free event in Phoenix co-sponsored by Gergen's Orthodontic Lab.
Event Details
Sheraton Crescent Hotel
2620 West Dunlap Avenue
Phoenix, AZ 85021
Thursday, April 18, 2013
From 7:00 PM to 8:30 PM (MST)
About Pro Player Health Alliance
The Pro Players Health Alliance (PPHA) is an organization dedicated to helping former NFL players, through providing testing and treatment options for those who suffer from sleep apnea. In addition, the PPHA is dedicated to integrating education and raising sleep apnea awareness, in a fun and memorable way. In addition to the campaign, the PPHA is dedicated to testing and getting people treated who suffer from sleep apnea. The PPHA was created by David Gergen, President of Gergen's Orthodontic Lab and Former NFL legends.
About David Gergen
David Gergen, CDT and President of Pro Player Health Alliance, has been a nationally respected dental lab technician for over 25 years. He received the award for "The Finest Orthodontic Technician in the Country" given by Columbus Dental in 1986. He also has been appointed chair of the dental wing of the American Sleep and Breathing Academy a national interdisciplinary academy dedicated to sleep training and education with over 60,000 members. David rolled out of bed on September 12, 1981 and had his career "ah ha" moment. He knew he was going to be an orthodontic technician and he knew he was going to help people all over the country to help treat their sleep disorders in partnership with their dentists. He has worked for some of the pioneers in the orthodontic and sleep dentistry fields. He was the personal technician for the likes of Dr. Robert Ricketts, Dr. Ronald Roth, Dr. A. Paul Serrano, Dr. Clark Jones, Dr. Harold Gelb, Dr. Joseph R. Cohen, Dr. Rodney Willey, Dr. Allan Bernstein, and Dr. Thien Pham. One of his proudest achievements is receiving The National Leadership award for Arizona Small Businessman of the Year in 2004.