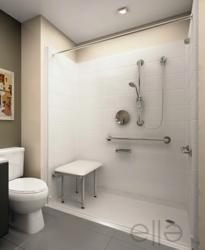 Customers that prefer handicap showers versus walk in bathtubs might consider adding a wheelchair shower ramp.
New York, NY (PRWEB) April 17, 2013
A leading national provider of handicap shower stalls and senior bathtubs, Aging Safely announces they will be expanding their product line for roll in showers. The company will now be offering customers wheelchair ramps that can be attached to wheelchair accessible showers, thus potentially making the transition into the specialty shower easier and less obtrusive.
These unique showers have an incredibly low threshold and are designed for people with limited mobility or that are in wheelchairs. Since these showers have such a low threshold, entering can be much simpler. The handicap shower stalls also come with a very thick vinyl shower curtain to help keep water off of the floor.
According to the company, shoppers have the option to purchase wheelchair shower ramps as a part of a handicap shower package, or ala carte and piece together the roll in shower as needed. The wheelchair accessible shower can also come with a temperature control device, more commonly known as an anti scalding valve. This device can give bathers additional control of water temperature. Walk in bathtubs can also be equipped with safety grab bars and a thermal mixing valve to assist in presetting the temperature.
These shower wheelchair ramps that are now offered by Aging Safely aren't currently available for walk in bathtubs, however they can adhere to several of the most popular handicap shower stalls. Shoppers that are wheelchair bound will potentially appreciate the smooth transitional entry that comes designed in these unique elderly shower systems. Senior bathtubs and wheelchair access showers can be installed next to one another as well, offering bathers the option of taking a shower without a step in or being able to actually soak their body in water.
Several of the senior bathtubs provided by Aging Safely come with air hydrotherapy and whirlpool water jets. Customers that are looking to bring a spa like experience into the home may appreciate the powerful jetting accessories offered. Walk in tubs can also have internal safety grab bars, low step in entry and a built in seat.
Shoppers that would like more information on walk in bathtubs and handicap shower stalls are invited to contact an Aging Safely representative. There are many unique sizes and options available. The company can assist in answering questions on design, functionality and warranty. Senior bathtubs can also be installed in commercial applications such as nursing homes and assisted living centers.
Contact Information:
Zach Wennstedt
1-888-779-BATH(2284)
info(at)agingsafelybaths(dot)com