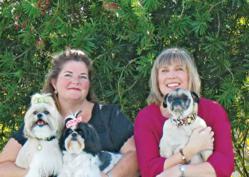 For us, our pets are not just animals, they are a part of the family. We enjoy buying them the cutest dog collars, dog clothes, pet beds, and pet furniture. We hope you and your special family members enjoy what we have to offer.
Houston, TX (PRWEB) April 17, 2013
Now more people than ever before are considering midlife career changes, whether out of choice or necessity. Cynthia Fagan and Carrie Wood, best friends since college, have often dreamed about owning a business together and working for themselves. After long and stressful careers in Accounting, Cynthia and Carrie decided they needed a fresh start in something new and exciting. They wanted to find an opportunity that would allow them to do something they both enjoyed, to set their own hours and be more in control of their lives, spend more time with family and friends, volunteer, and travel.
Cynthia and Carrie had each checked into different possibilities for having their own businesses for years, both individually and as partners. Then one day while researching different business opportunities, Carrie came upon Pure-Ecommerce.com which builds complete turnkey internet businesses and then works with clients one-on-one going over every aspect of setting up, running, and then growing a successful ecommerce business.
Both Carrie and Cynthia are passionate about dogs and so when it came to select one of the turnkey businesses for sale, it was no surprise they chose DoggyinWonderland.com, an online upscale pet boutique. Between them, Cynthia and Carrie currently have three wonderful fun-loving dogs. Cynthia says, "For us, our pets are not just animals, they are a part of the family. We enjoy buying them the cutest dog collars, dog clothes, pet beds, and pet furniture."
Jennifer Varner, Founder and CEO of Pure-Ecommerce.com, says the number one key to success in running an ecommerce business--choosing an area of trade you are passionate about. Varner reports that Cynthia and Carrie have already had tremendous success in their first six months of business because of that passion they feel for animals. Having that connection, Varner shares, helps provide the motivation to be successful and marketing ideas to flow more easily."
Another key to Carrie and Cynthia's success says Varner is a well-defined niche. "Knowing your niche--what you are going to sell, how, and to whom--is a critical part of being successful. You really want to be 'specific' enough to get the right kind of customers and the least possible competition." Cynthia and Carrie want to be the name that people think of when they think about finding high quality chic pet products at an online pet boutique. DoggyinWonderland.com offers that special niche--a full line-up of chic dog products such as stylish dog clothing, collars and leashes, pet furniture and dog beds, eco-friendly pet gear, healthy dog treats, dog toys, pet carriers, and a growing collection of cat products as well.
Jennifer says she is delighted when she can help clients like Cynthia and Carrie realize their dream of being their own boss and creating their own destiny. "By offering people like Cynthia and Carrie a new way to earn an income with only minimal start-up costs and low monthly fees, we are empowering people to take their lives back."
Carrie and Cynthia share that they are much happier now as ecommerce businesswomen. They say owning DoggyinWonderland.com has given them more free time, and they no longer have to be stressed about someone else's business. It has allowed them to meet more people in the pet industry who have similar interests, and they have plans for some trade shows that will allow them to meet even more people with a similar love of pets. It has allowed them the time to volunteer with some pet adoption events and rescue groups. They hope to be able to donate a portion of revenue from DoggyinWonderland.com to some of these groups.
Upcoming Events
DoggyinWonderland.com will have booths at these upcoming events:
•A Bark in the Park in Galveston, TX on Saturday, April 27, 2013 from 10:00 am to 2:00 pm.
•The Reliant Park World Series of Dog Shows in Houston, TX from July 17-21, 2013 in booth #321.
•Cy-Fair Sugar Plum Festival at Berry Center in Cy-Fair, TX on November, 23, 2013 from 9:00 am to 5:00 pm.
For more information, please visit http://www.doggyinwonderland.com.
###