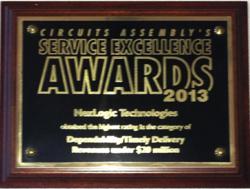 NexLogic is always on time and yield is extremely high.
San Jose, CA (PRWEB) April 17, 2013
NexLogic Technologies, Inc. announced it has received a prestigious 2013 Service Excellence Award (SEA) for electronics manufacturing services (EMS) providers. Sponsored by industry leading publication, Circuits Assembly Magazine, the 2013 SEA was awarded to NexLogic in the category of dependability.
NexLogic's SEA Award for dependability is among other EMS provider award categories covering top electronics assembly equipment, materials, and software suppliers. The SEA Award recognizes companies that receive the highest customer service ratings as judged by their own customers.
Customers surveyed gave NexLogic the highest marks for dependability and timely delivery. But they also ranked the company high in the categories of quality, responsiveness, technology, and value for the price. One survey customer went beyond providing the high dependability number rating by saying, "NexLogic is always on time and yield is extremely high. But if there's any chance of a delay, NexLogic is highly proactive in communicating such issues."
Mike Buetow, editor-in-chief at Circuits Assembly Magazine, acknowledged NexLogic's SEA Award and customer recognition saying, "The heart of good service is your dependability. When your customers say you are the best in class in delivering products on time, it's a strong statement that you are doing things right."
Zulki Khan, president and founder, NexLogic Technologies, Inc., said, "Customers can be highly confident of our dependable service. Based on our vast experience in PCB design, fabrication, and assembly, we know the types of possible issues that can arise when customers come to us. And we are proactive in discussing these issues with our customers, plus we make sure that if and when these issues become apparent, we have a game plan to address them."
NexLogic's customer service strategy to create its dependability culture is two-fold. One is to implement its expertise supported by highly trained personnel and advanced technology equipment. The company maintains an extensive CAPEX schedule to ensure on-going high quality and reliability for its customers, regardless of newer PCB technologies the industry introduces.
The second is to maintain a highly stringent mindset to exercise disciplined customer order processes and procedures to assure on-time deliveries. Even when unforeseen problematic areas or customer issues surface during a project and possible delays occur, NexLogic proactively initiates customer dialogue so that mutually acceptable shipment dates are arranged. In effect, there are no customer surprises.
#########
About Nexlogic Technologies, Inc.
1995-2013 18th anniversary year
An ISO 9001:2008, ISO 13485 Certified, and RoHS compliant EMS provider, Nexlogic is a leading electronic manufacturing services provider that offers total integrated circuit board solutions. The company was established in 1995 and serves over 100 customers in North America. Nexlogic's mission is to be the best electronic manufacturing services (EMS) provider to the markets it serves through high quality and an efficient manufacturing process.
http://www.nexlogic.com