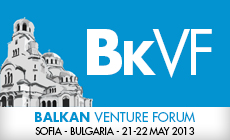 The main objective of Balkan Venture Forum is to connect regional entrepreneurs to international investors, promoting quality entrepreneurship, innovation, risk investment and access to funding on the Balkans"
Boyan S. Benev - Chairman, BEIC
Brussels, Belgium (PRWEB UK) 17 April 2013
April 17, 2013 – This year, the 3rd edition of the Balkan Venture Forum (BkVF) - http://www.balkanventureforum.org - will be held on 21-22 May 2013 in Sofia, Bulgaria. Innovative entrepreneurs will present their companies, operating in the Life Sciences, Cleantech or ICT sectors, to international venture capitalists and corporate investors who are curious to find out about new investment and partnership opportunities.
In addition to the dynamic pitching competition, the programme will be combined with speeches, discussion panels and workshops by key players from the industry.
"The main objective of Balkan Venture Forum is to connect regional entrepreneurs to international investors, promoting quality entrepreneurship, innovation, risk investment and access to funding on the Balkans," Boyan S. Benev - Chairman, BEIC.
The previous edition in Belgrade, Serbia, has been very successful. Out of more than 120 applications, 40 innovative companies where selected to pitch at the event in front of over 40 investors and experts. Resulting in 10 award winners.
Are you one of the most promising early stage companies in the Balkan region?
Prove it! The registration for BkVF will be open till 22 April 2013 and only 36 companies will get the chance to pitch at the event.
Registration:
Apply for a pitching slot here: http://e-unlimited.com/register/register.aspx?events_id=476
Registration is free!
To be selected you must 1. Register 2. Complete an online profile and 3. Upload a presentation before 22 April 2013.
All other participants can book their tickets here: http://www.balkanventureforum.org/book-tickets
Selected companies have the chance to:

Pitch their business proposal in 15 minutes ( 8 min presentation, and 7 min feedback)
Meet and present to top active investors and other key industry players
Meet face to face with investors through pre-arranged One2One meetings
Access the Presentation Dry Run (on 21 May) where experienced coaches help you prepare
Profit from a giant regional and European promotion and profile publication on our event websites & conference binders
The Investor Jury:
A few of investment companies who already confirmed their participation are: Earlybird Venture Capital [DE], TechAngels [RO], Crimson Capital Corp. [MK], LAUNCHub [BG], Bright Capital [RU] and Intel Capital [PL]
For the full list of jury members, please click here - http://www.e-unlimited.com/events/view.aspx?events_pages_id=1749.
Balkan Venture Forum is organized by Balkan Unlimited Bulgaria – a subsidiary of the international organization Balkan Unlimited, and co-organized by VIBE (Venture Initiative in the Balkan Europe) – a regional accelerator designed to support the startup ecosystem in the Balkans.
Main contact:
Adeline Kloosterman
Europe Unlimited
+32 (0) 2 643 36 80
adeline (at) e-unlimited (dot) com