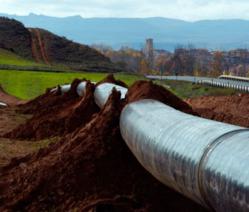 Bossier City, LA (PRWEB) April 17, 2013
Landpoint, Inc., a land surveying, environmental and integrated services firm, recently unveiled new mapping tools for pipeline projects that give clients unprecedented access to project data. Using the new tools, clients can easily monitor changes in real time, identify the most recent revisions and access supporting documents from a secure integrated system. These tools help address many of the planning, development and construction challenges that occur with new pipeline projects that have been difficult to track in the past.
Landpoint's GIS department has created an innovative solution by taking data produced by their land survey crews and the data from other companies, and organizing the information into an easy-to-use map. Clients can access the fully-customizable map from their mobile phones or PCs, and instantly connect them to the files needed, alongside detailed information about the pipeline. Clients can also keep track of other jobs requested from Landpoint through the Project Information tab.
The maps detail a range of important information, including pipeline centerlines, pipeline right of ways, ownership, facilities, well locations, valves and more. The system is intuitive and easy to use, but clients who may need additional assistance accessing files or making special requests can connect with Landpoint's excellent support team.
Companies across the United States are finding these tools to be crucial for expanding infrastructure and clients should not settle for standard deliverables from a land surveying company. Instead, award-winning Landpoint, Inc. provides the innovative tools necessary with the data they want to maximize the efficiency of their pipeline projects. Check out one of their sample projects displaying an oil and gas field that has data collected and useful to every department of the client here: info.landpoint.net/oil-and-gas-project-mangement-demo.
About Landpoint, Inc.
Landpoint is an award winning firm that provides tightly integrated, sophisticated solutions that traditional Land Surveying, Environmental, and GIS mapping companies cannot match. We understand your needs for data organization, timely deliverables, and responsive service. Our professionals have worked on some of the largest, most challenging oil and gas projects in the nation.