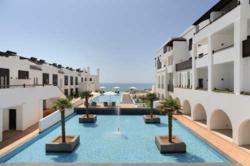 We are confident that Belmar and Amendoeira will offer the same fantastic quality holidays our clients have come to expect.
Poole (PRWEB UK) 17 April 2013
Already it has been a successful start to 2013 for Select Resorts, with many customers opting for resort holidays. They have found as a result, availability is already low in some of their existing popular resorts.
The company hopes that by adding Amendoeira and Belmar to the existing range that they will continue to meet customer demand and maintain the excellent standard of service Select Resorts prides itself on. The extended offering means customers now have a greater number of options when it comes to choosing their perfect Algarve holiday.
Although the two resorts are very different from each other, they match the extremely high standard of properties Select Resorts offers. Amendoeira Resort is surrounded by countryside and is situated in central Algarve, close to Silves. It is ideal for those seeking a peaceful break or golfing holiday. The resort also offers a range of sporting facilities including two 18-hole golf courses, plus professional grass pitch and regularly hosts sports events and team training. The accommodation range includes two bedroom apartments and three, four and five-bedroom villas with private pools.
Belmar Resort is an upmarket resort for families seeking a beach holiday. The resort benefits from being located just two minutes' walk from Porto de Mos beach, rare for Algarve resorts, and five minutes' drive from Lagos. Whilst Amendoeira's focus is on sports, here the emphasis is on relaxation at the Belmar Spa and Fitness Centre. Accommodation consists of one, two and three bedroom apartments situated in either the Aparthotel or cluster apartments.
Select Resorts is excited to be able to offer their customers these two very different resorts. They are also looking forward to working with the Oceanico Group in offering competitive rates to customers.
Marketing Director, Michael Reilly explains, "Select Resorts have offered high quality resort holidays in the Algarve for over 20 years, working with the best partners in the region. We are confident that Belmar and Amendoeira will offer the same fantastic quality holidays our clients have come to expect."
Customers can enquire online about either Oceanico resort or alternatively speak to the reservations team direct on 01202 786490.
ENDS.
Established in 1982, Select Resorts has over 30 years' experience in the overseas property market, both within sales and handpicked holiday accommodation across a range of European and International destinations. For more information contact marketing[at]selectresorts[dot]co[dot]uk.