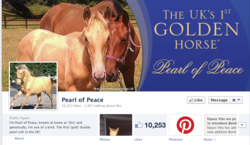 (PRWEB UK) 19 April 2013
Pearl of Peace reaches 10,000 likes after a successful marketing campaign with creative marketing company, Graphic Evidence.
The PR team at Graphic Evidence have been working closely with breeders Equus Vita to generate an awareness of the unique breeding and future stud services of Pearl of Peace, the UK's first golden horse and have now reached the 10,000 follower milestone.
As Pearl of Peace will be available for stud services when he reaches the age of three, Equus Vita are utilising Graphic Evidence's skills to educate the general public about his existence. Graphic Evidence have helped to successfully raise the profile of this unique golden horse increasing his Facebook following from fewer than 100 followers to over 10,000 in a short space of time. This figure continues to grow daily and is a result of daily posts and an effective targeted advertising campaign, implemented by Graphic Evidence, which promotes Pearl of Peace to users who had expressed similar interests.
The campaign has been a huge success not only within the UK but also internationally with many followers based in the USA and Australia.
Graphic Evidence's work on on behalf of Pearl of Peace will continue with social networking and interaction with the media to promote his future availability for stud services.
To find out about more about the stud services on offer from Equus Vita or future breeding from Pearl of Peace, please visit http://www.equusvita.com
As a full service marketing agency Graphic Evidence offer a range of marketing solutions including branding, website design, design for print, packaging design and public relations. To find out more or to see examples of our completed projects, please visit http://www.graphicevidence.co.uk