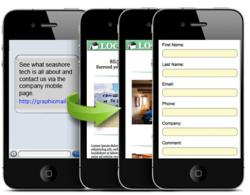 over 43% of Americans access their email through their mobile phones
Geneva, Switzerland (PRWEB) April 17, 2013
As the growth of mobile technology continues globally - highlighted by the 30% dedication towards mobile innovation at last week's Ad:Tech San Francisco conference - digital marketing strategies are increasingly seen as inter-connected, integrated activities geared towards a visceral understanding of complete marketing strategy. The combination of mobile messaging and email marketing makes for a real-time, responsive two-way communication stream with almost-immediate responses. According to a study by Alert Solutions, 90% of all text messages in the US are read within three minutes of receiving.
GraphicMail's new shortcode marketing packages offer businesses a quick, cost-effective way of collecting mobile numbers, subsequently driving conversions and engaging on a permission-based level. Making use of this mobile technology enables last-minute offers and flash sales to be pushed out to consumers in real-time, which is especially valuable as an increasing number of consumers these days access online content on their mobile phones.
Marketers utilizing mobile messaging to streamline their digital communications have the added benefit of getting a concise message across to a vast audience, with a high chance of virility, as consumers often share special offers via mobile devices. In this instance, having a mobile mini-site ready to receive traffic is essential. GraphicMail's mobile mini-site or coupon builder offer businesses what can be referred to as MMS on steroids; the ability to send graphic-rich, visually driven messages with links to personalized mobi-sites.
Litmus.com estimates that over 43% of Americans access their email through their mobile phones. With this high penetration of mobile platforms, devices and operating systems, digital marketers are perfectly placed to take advantage of the tools available to reach out to potential business. GraphicMail offers a highly responsive, compatible mobile newsletter ideally suited to the consumer-on-the go. Businesses are able to build concise, targeted mobile newsletters and send them out to a database of opt-in consumers, guiding them along to a product placement, mobile site or once-off offer.
Mobile technology is transforming the digital marketing world by the day and trusted ESP's like GraphicMail, with their advanced and flexible mobile packages are well-placed to partner with businesses in a symbiosis that has the potential to create world-class, integrated marketing campaigns with high success rates.