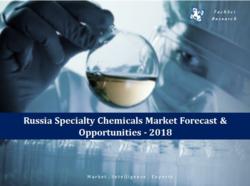 Russian Ministry of Industry & Energy targets to decrease the import of specialty chemicals up to 12% to boost local production
Vancouver, Canada (PRWEB) April 27, 2013
After the collapse of USSR, Russian Federation started depending up on exports for meeting the budgetary needs, which led to the development of few export oriented industries and various technology intensive industries remained unaddressed. The lack of sustainable development of the economy and extensive use of oil & gas reserves has landed Russia on the forefront to decrease the carbon footprint. Hence, the country is inclined towards addressing the environmental issues along with sustainable development. The sustainable developments on both fronts i.e. ecosystem and economic scenario is providing the much awaited thrust to sectors such as specialty chemicals.
According to a recently published report by TechSci Research "Russia Specialty Chemicals Market Forecast & Opportunities, 2018", the specialty chemicals market in Russia is expected to witness the compounded annual growth rate of 5% over the period 2013-2018. With the accession of Russia in WTO, the world will witness the technology development and quality manufacturing activities in the region. The accession will also open up the exports market for specialty chemicals in Russia. To meet the growing specialty chemicals demand, various multinational companies have started their domestic production facilities in the country.
"Two major international sports events Winter Olympics scheduled in 2014 and FIFA World Cup scheduled in 2018 will boost the infrastructure developments in the country. Along with real estate some of the allied sectors will also witness high growth rate. Russian government has planned to invest about USD 1 Trillion by 2020, to boost the infrastructure and has partnered Dow Chemical Company, to reduce the carbon footprint during the Winter Olympic Games. This tend will drive the construction of green buildings and hence the growth in the construction chemicals segment" said Mr. Karan Chechi, Research Director with TechSci Research, a global management consulting firm.
Globally, the shale gas exploration is driving the oilfield chemicals demand and countries with high oilfield chemical production potential such as Russia is getting benefited from these developments. Europe is Russia's largest trading partner, accounting for about 47% of the total oil & gas export, hence the developments in European petrochemical market is also expected to influence the specialty chemicals demand in Russia said Mr. Chechi.
Russia Specialty Chemicals Market Forecast and Opportunities, 2018 has analyzed the growth potential of specialty chemicals market in Russia and provides statistics and information on market sizes, shares and trends. The report will suffice in providing the intending clients with cutting-edge market intelligence and help them take sound investment decisions. Besides, the report also identifies and analyzes the emerging trends along with essential drivers and key challenges faced by the industry.