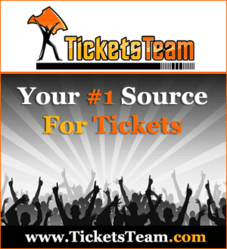 TicketsTeam.com is the premiere site to find tickets for the Jonas Brothers live tour 2013.
Chicago, IL (PRWEB) April 22, 2013
The Jonas Brothers Live tour kicks off July 10 at the Charter One Pavillion at Northerly Island in Chicago. After Chicago, they will head to Noblesville, Indiana and Clarkston, Michigan on the 12th and 13th respectively. After that it's practically a new city each day until the last day of the tour on August 16th at the Gibson Amphitheatre at Universal City Walk in Universal city, California. TicketsTeam.com is the premiere site to find tickets for this amazing live tour.
The Jonas Brothers quickly became America's beloved boy band when they stormed on the scene in 2005. The group consists of three brothers originally from Wyckoff, New Jersey: Nicholas (Nick), Paul and Joseph. Nick's career actually began at age 7 when he performed on Broadway. Four years later, while enjoying great success on the stage, Nick wrote a song called, "Joy to the World." This eventually led to a record deal for Nick. In 2005, Steve Greenberg, visionary president of Columbia Records, signed the brothers as a group act when he realized that not only did Nick have a great voice, but he had two talented brothers as well.
The Jonas Brothers rise was quick, with several successful albums and single hits. Their first single, "Mandy," from their "It's About Time" album, reached number four on the MTV Total Request Live show. By the summer of 2006, they were on tour with Aly & AJ and opened for various artists, including Kelly Clarkson, the Backstreet Boys, Jump5 and others. They made several appearances on television during the release of their second, self-titled album that went to five on Billboard's Hot 200 chart in its first week.
Jonas Brothers emphasize that they are still growing and so thankful for the loyal fans that have stuck with them along their journey. It's certainly all about great music to them, and that is what they can not wait to share this summer.
TicketsTeam.com is a seller-generated site where the ticket buyer can peruse through available tickets, choose the best rate that works for them and reserve their seat. Venue diagrams are available so that fans can see the layout of the stadium or theater where their concert of choice is taking place. Once they click through and purchase, they simply print out the tickets, and they are ready for the concert experience.