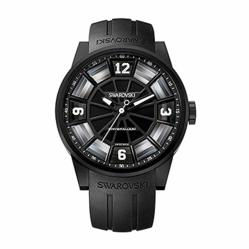 London (PRWEB UK) 24 April 2013
With the Crystallium watch, the designer Eric Giroud secures the 2013 red dot award for Swarovski in the category best product design. Officially launched at the prestigious 2013 Baselworld fair, this special edition Men's Watch is an eye-catching and impressive statement piece which pushes the limits of perfection.
Crystallium was created and planned as part of Swarovski's "Avant Time" concept, which aims to give the most daring and creative vision of time a space to unfold. Already the first Avant Time watch, D:Light had won the red dot award in 2010. Visionary in terms of style, the Crystallium watch perfectly illustrates Swarovski's constant quest for innovation.
Along with Crystallium, which will be available in two versions, Swarovski is also introducing three other styles of men's watches to the current range. Swarovski is proud to present its fifth Women's Watch Collection featuring striking new additions. This year, Swarovski launches two new lines for women: the elegant Octea Classica and the modern Indira line, while some of the existing watches shall be available in new colours. Driven by a constant quest for excellence, Swarovski masterfully combines innovation, precision and creativity with Swiss watch-making expertise, to provide the multifaceted woman of today with an array of time jewels that are as stylish as they are refined. Visit Swarovski at the Baselworld fair for a preview of the new creations.
Award winning Crystallium, as well as the rest of the introductions to the collections will be unveiled at the 2013 Baselworld fair. The award winning collection will be shown in our boutiques and the Swarovski online shop as of April 24, 2013.
About Swarovski:
In 1895, Daniel Swarovski, a Bohemian inventor and visionary, moved to the village of Wattens, Tyrol in Austria, with his newly-invented machine for cutting and polishing crystal jewellery stones. From this beginning that revolutionized the fashion world, Swarovski has grown to be the world's leading producer of precision-cut crystal for fashion, jewellery and more recently lighting, architecture and interiors. Today, the company, still family-owned and run by 4th and 5th generation family members, has a global reach with some 23,000 employees, a presence in over 120 countries and a turnover in 2010 of 2.06 billion Euros. Swarovski comprises two major businesses, one producing and selling loose elements to the industry and the other creating design-driven finished products. Swarovski crystals have become an essential ingredient of international design. Since 1965 the company has also catered to the fine jewellery industry with precision-cut genuine and created gemstones. Showing the creativity that lies at the heart of the company, Swarovski's own brand lines of accessories, jewellery and home décor items are sold through more than 1,900 retail outlets worldwide. The Swarovski Crystal Society has close to 325,000 members across the world, keen collectors of the celebrated crystal figurines. And in Wattens, Swarovski Kristallwelten, the multi-media crystal museum, was opened in 1995 as a celebration of Swarovski's universe of innovation and inspiration.