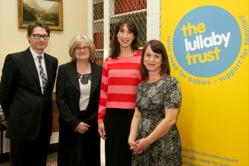 London (PRWEB) April 17, 2013
Mrs Samantha Cameron hosted a reception yesterday at 10 Downing Street London to mark 25 years of a unique maternity support service, the Care of Next Infant (CONI) programme, a collaboration between the safer baby sleep charity The Lullaby Trust and the NHS.
CONI, which is a health visitor- led programme, helps parents who have lost a baby to Sudden Infant Death Syndrome (SIDS), providing support before, during and after the birth of their next baby.
The service is highly rated by parents who are offered weekly or regular contacts at home with their health visitor, a special 'baby passport', which gives them priority access to a paediatrician, a symptom diary and a breathing movement monitor. All these elements provide significant comfort and reassurance during the frightening early months of their new baby's life.
CONI combines two of The Lullaby Trust's key priorities: supporting bereaved families and preventing more babies from dying. Since it began, the service has helped 8,600 families and 12,000 babies.
The charity launched a special edition anniversary brochure at the reception, featuring inspirational stories from families who have been supported by CONI.
Francine Bates OBE, Chief Executive of The Lullaby Trust, said: "We are absolutely delighted that Mrs Cameron has shown her support for CONI by hosting our anniversary event.
"The programme is funded entirely through donations and she has helped enormously to raise public awareness of this unique and vital service.
"Research shows that CONI prevents subsequent deaths and without the support it provides for some of the UK's most vulnerable babies it would be impossible to achieve The Lullaby Trust's goal to halve the rate of SIDS by 2020."
Christian Jones, Managing Director of the Gro Company, said: "I am honoured that The Gro Company was able to support The Lullaby Trust's 25th Anniversary of CONI (Care of Next Infant) in the presence of Samantha Cameron at 10 Downing Street last night.
"The Lullaby Trust is The Gro Company's valued charitable partner whose research was responsible for the significant drop in the numbers of babies dying suddenly and unexpectedly in the UK. Safer sleep advice is still vital and it is important to ensure that every new parent is aware of the recommendations. We are supporting The Lullaby Trust in order to make this happen," he added.
Caption for photo (L to R):-Christian Jones, Managing Director, The Gro Company; Francine Bates OBE, Chief Executive, The Lullaby Trust; Mrs Samantha Cameron and Lisa Penney, Head of Stakeholder Relations, Bounty UK. Photographer's credit: Zoe Norfolk.
Ends
Editor's Notes:-
About The Lullaby Trust
The Lullaby Trust provides specialist support for bereaved families and promotes expert advice on safer baby sleep.
Working with the NHS we run a national, health-visitor led service for bereaved parents, Care of Next Infant (CONI) programme, which supports families before and after the birth of their new baby.
We are committed to commissioning new research projects to understand much more about what causes these tragic deaths and how we can prevent them.
The Lullaby Trust also runs an information line for parents and professionals (0808 802 6869) and a dedicated support line for bereaved families (0808 802 6868). Both are free to call from landlines and mobiles.
Advice including, factsheets and the latest research can be found at http://www.lullabytrust.org.uk
We campaign tirelessly, lobbying government to keep sudden infant death on the public health agenda.