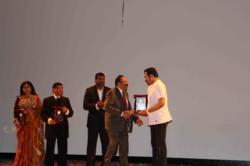 Ayurveda Helping people Worldwide
New York, NY (PRWEB) April 18, 2013
Dr. Gopinathan Nair , founder and CEO of Santhigram Ayurvedic company was honored by Asianet USA for his outstanding service to the community. At a well-attended colorful function to celebrate its 10th anniversary of Asianet USA, the honor was bestowed by Malayalam film super star and community activist Mr Suresh Gopi on Dr Gopinathan Nair, for his outstanding contribution in promoting Kerala Ayurveda internationally and his service to the community. He is the previous recipient of many prominent awards including honorary doctorate from the Indian Institute of Complimentary Medicines(IICM),"Super Achiever Award" from Bharat Nirman, "Pride of the Country Award" from Society of Industry & Business Achievements and "International Dharma Award" from Association of Ayurvedic Professionals of North America (AAPNA), all for his contribution in propagating the goodness of Ayurveda worldwide.
Dr Gopinathan dedicated his life for over two decades promoting Kerala Ayurveda worldwide. After establishing three Ayurvedic Hospitals in New Delhi, India, which serve local and international patients, under his leadership the Santhigram group ventured out internationally, first to UK in 2005 and then to USA in 2007. Dr. Gopinathan's efforts helped establish Kerala Ayurveda in United States and help hundreds of patients with chronic ailments in USA. Kerala Ayurveda and Panchakarma therapy is a well known complementary alternative medicine specialty that offers side effect free treatments for various chronic ailments like Spondylitis, Slip Disc, Back Ache, Arthritis, Joint Pains, Muscle pains, Sprains, Frozen Shoulder, Obesity, Migraine, Sinusitis, Psychosomatic disorders , skin diseases etc.
At Santhigram Wellness Kerala Ayurveda Centers, Ayurveda is the governing principle behind integrating treatments and developing specific life style management programs. Founded on the wholeness of mind, body and spirit, the art and science of Ayurveda is emerging as an important health care option in the Western countries. Holistic health is one of the trends of the modern world and complementary medicines are viewed by many in the Western World as a solution to treating the rising incidence of chronic illness and diseases and also reducing the spiraling health and medical care costs.The trend towards alternative or complementary medicine particularly Ayurvedic medicine is catching up all over the world especially in the Western countries.
Dr Raj C Guptan
Director & Board Member
Santhigram Kerala Ayurvedic Co. of US Inc.
3050 Woodbridge Ave., Edison, NJ 08837
Phone: +1-732-709-3347
Email: info@santhigramusa.com
Santhigram Kerala Ayurveda - USA Website
Appointments Call : Toll Free: 1-888-KER-AYUR (1-888-537-2987)