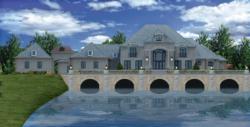 This project has been the dream of any designer. We've been able to partner seamlessly with Tim Burks Builder, Inc. and the homeowner every step of the way. The final result is just a masterpiece. - Grace Jones of Dwellings, interior designer.
Cincinnati, Ohio (PRWEB) April 18, 2013
A spectacular new 15,950 square foot luxury mansion in the Greater Cincinnati and Northern Kentucky area has sparked the curiosity and imagination of residents in the region, along with the interest of interior designers and fine homebuilders in the home and design industries. Excitement builds daily as the dramatic private residence nears completion in time for the May 2013 Northern Kentucky Cavalcade of Homes.
The new classically inspired home, located in Edgewood, Kentucky, just five minutes from downtown Cincinnati, Ohio, was designed and built by Tim Burks, owner of Tim Burks Builder, Inc. in Fort Thomas, Kentucky.
The elegant French chateau-themed residence is situated atop a peaceful rolling hillside and backed by dense woods. Grace Jones, owner and talented lead interior designer at Dwellings, an interior design firm and chic boutique and atelier in Cincinnati, Ohio, has served in the role of the visionary interior designer throughout the project.
There has been much speculation as to the identity of the homeowner for the beautiful custom home with guesses including a professional sports athlete, a 'boys band' member, or a Hollywood celebrity with local area ties.
Custom homebuilder Tim Burks, explained that the homeowners requested that he design and build the home to 'feel' as if it was a centuries-old French estate. Dramatic architectural Northern European features of the home, its stunning exterior, and the sophisticated elegance of the interior design blend to help create the home's final 'wow' effect.
Tim Burks Builder, Inc. created a striking front-of-home large lake that includes a massive, hand-laid arched stone monument wall to create a castle-like moat effect, reminiscent of European aqueducts. The wall is topped with hand-crafted flickering copper and iron gas lights. The lake abuts a long, sloping drive that leads to the home's spectacular entry with its grand, oversized two-story Gothic style leaded glass door and Juliet balconies gracing the façade. Once inside, guests find themselves in an extravagant domed foyer, with an all-stone staircase created from imported Italian marble.
The grand home's project manager Linda Cochran noted that there is literally a sense of reverence for the project by those who have spent many months on the construction and the finishing treatments of the home. "Collectively, the vendors, sub-contractors, and craftsmen who have been a part of this project feel a deep sense of respect and excitement about the finished beauty of the results."
Cochran continued, "This home has indeed been one of the most spectacular projects many of our craftsmen have been involved in during their careers. I'd say that the feeling of pride is tangible."
Cincinnati, Ohio Interior Designer Grace Jones tapped into her knowledge of European history and interior design, as well as her ability to create fierce and bold interiors when choosing the treatments used throughout the home. Jones selected wallpapers from the United Kingdom, pottery from around the world, marble from Italy, and fireplaces from Europe - just for starters.
Grace Jones observed that "this project has been the dream of any designer. We've been able to partner seamlessly with Tim Burks Builder, Inc. and the homeowner every step of the way. The final result of this luxury home is just a masterpiece. The homeowners' gratitude and satisfaction is something we all treasure."
She added that there is such a mutual respect for the abilities of all of the many artisans on this project. "There simply is nothing else like this around here. Period."
Interior features of the Kentucky Mansion include opulent crown molding and original, elegantly-designed wood treatments; cathedral arch stone doorways that border an expansive wall of paned windows overlooking a European infinity pool and pool house bordered by a Travertine tile patio; and a 20-foot sculpted plaster groin ceiling in the Great Room.
A centerpiece casino room features a 20-foot round bar, a custom beamed ceiling, and a 30' Lanai wall opening to the outside lounge porch; and an over-indulgent theater room rivaling any film director's private screening room in Hollywood.
Design elements throughout the home include elaborate silk and velvet fabrics used abundantly for drapes throughout home; furniture custom-designed for this home; elegant lighting; and wallpapers imported from the United Kingdom. A master bathroom suite includes Baccarat crystal faucets; a Japanese soaking tub; a spa-like shower for six; and a heated floor.
The fantastic beamed two-story library with ceiling-to-floor judges wood paneling is one of the striking centerpiece areas of the home.
Recent media coverage about the home includes a News Segment on WCPO-TV:
Mystery Mansion in Kentucky.
Exterior features of the Kentucky Mansion include a roof made of imported chiseled slate in muted teal, lavender and soft taupe colors highlighted by graceful turrets and copper dormers. The home features an outdoor entertainment 'room' with native-stone fireplace and bar; outdoor custom-made stainless steel cabinets; granite tops; and custom gourmet stainless cooking and grilling appliances.
Additional media coverage about the home includes a news segment on WLWT-TV:
Northern Kentucky Mansion Nears Completion.
Details about the home are available by contacting the homebuilder or designer directly, through the websites of each partner, and via posts on Facebook pages for Tim Burks Builder, Inc. and for Dwellings.
About Tim Burks Builder, Inc. (Custom Homebuilder)
Tim Burks Builders, Inc. has designed and custom-built beautiful, quality homes for discerning clients in Northern Kentucky communities for over 30 years. His signature includes his passion for fine architectural finishes and classic, elegant wood moldings; and for his creative vision for each project, which sets Tim apart from other builders. His involvement in the design process is critical to the overall feel of the home and how it integrates with the topography and surroundings.
Tim Burks is known in the industry as a custom homebuilder of talent and integrity and values his long-enduring relationships with his custom home-design and custom home-build clients, which include professional athletes, celebrities and respected members of the Northern Kentucky and Cincinnati, Ohio communities.
More information at Tim Burks Builder, Inc. 1.859.781.3339.
About Dwellings (Interior Design)
Grace Jones of Dwellings Interior Design in Cincinnati, Ohio is a sought-after, high-end interior designer who is beloved by her loyal clients. Grace's firm, Dwellings, is an exquisite interior design studio and atelier based in Cincinnati, Ohio. The Cincinnati boutique interior design firm's scope of work extends from ground-up construction consultation and renovation strategy, to exquisite interior design and space planning for an entire home - or just a single room. Grace and her select group of some of the finest design professionals in the country, have designed urban spaces, downtown condos, Great Room additions, traditional homes, and spectacular mansions. Grace Jones and her team's roster of customers includes artists and professional athletes, lawyers and corporate executives, physicians, city leaders and celebrities.
More information at the Dwellings website. 1.513.321.6900.
Media Contact:
Joanne Maly (representing Tim Burks Builder, Inc. and Dwellings ... Cincinnati – Interior Design) 513.321.4007. joanne(at)lincolnmaly.com