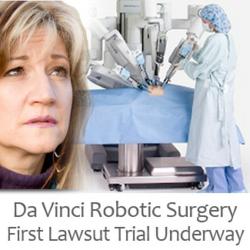 If you or a loved one has been injured by a da Vinci surgical robot contact Wright & Schulte LLC, a leading medical device injury law firm today at 1-888-365-2602 or visit www.yourlegalhelp.com
Dayton, OH (PRWEB) April 19, 2013
The Da Vinci robotic surgery lawyers at Wright & Schulte LLC, an experienced personal injury law firm representing victims of medical device injuries, look forward to a ruling in the nation's first trial of a Da Vinci robotic surgery lawsuit. The lawsuit, which went to trial in Washington State Superior Court on April 15th, was filed by the family of a man whose death was allegedly the result of Da Vinci robotic surgery complications he sustained during what should have been a routine prostate removal procedure. According to Bloomberg.com, the Da Vinci robot lawsuit alleges the Da Vinci Surgical System was marketed by Intuitive Surgical without adequate doctor training. (Estate of Fred E. Taylor v. Intuitive Surgical Inc., 09-2-03136-50, Superior Court, State of Washington, Kitsap County.)
[bloomberg.com/news/2013-04-15/intuitive-s-first-robot-surgery-trial-to-probe-training.html]
Wright & Schulte LLC is now offering FREE Da Vinci robotic surgery lawsuit consultations to victims of alleged Da Vinci robotic surgery complications, including those who suffered:

Tears and/or burns of the intestines
Punctured blood vessels
Punctured and/or cut ureters
Severe bowel injuries
Vaginal cuff dehiscence
Excessive bleeding
Surgical burns
Sepsis
Peritonitis
Death
For more information on filing a Da Vinci robotic surgery complications lawsuit, or to arrange for a free legal consultation, please visit yourlegalhelp.com.
According to Bloomberg.com, the Da Vinci Surgical Systems was used in some 300,000 U.S. surgeries last year, including prostate removals. The surgeon who operated on the decedent named in the Washington Da Vinci robot lawsuit had never performed an unsupervised surgery on the machine before that procedure. According to court papers, the surgeon – who could be called as a primary witness in the trial - said that he was not warned by Intuitive about the risk of certain Da Vinci robot complications, and was told by the company that he could achieve "basic competency" after two assisted surgeries. He also maintains that Intuitive did not disclose its own paid consultants had reported that such proficiency couldn't be reached "until twenty or more operations were complete," according to Bloomberg.
[bloomberg.com/news/2013-04-16/intuitive-watered-down-robot-training-lawyer-says.html]
During the trial's opening statements, the family's attorney told jurors that Intuitive designed a training program to obtain regulatory approval to sell the Da Vinci robot in the U.S., but later simplified the protocol to market the machine to less skilled surgeons. As a result, the training program was, "watered down so much that nobody's ever failed – ever," the attorney said.
[bloomberg.com/news/2013-04-16/intuitive-watered-down-robot-training-lawyer-says.html]
The opening of the Da Vinci robotic surgical trial comes after a series of developments raised questions about the risks and benefits associated with robotic surgery, according to Wright & Schulte LLC. In January, the U.S. Food & Drug Administration (FDA) launched a probe of the Da Vinci robot to determine if an increase in adverse events related to such procedures is a reflection of a real and growing problem. Among other things, the survey asks doctors to discuss their training on the machine.
[wsj.com/article/SB10001424127887324662404578332712134965802.html]
Recently, the American College of Gynecologists (ACOG) advised its members that robotic-assisted hysterectomy should not be the first choice for most women in need of the procedure. And just last month, the Massachusetts Board of Registration in Medicine released a statement on its website expressing concern over an increasing number of reports of patient complications related to robotic surgery in the last two years.
[acog.org/About_ACOG/News_Room/News_Releases/2013/Statement_on_Robotic_Surgery]
[bostonglobe.com/lifestyle/health-wellness/2013/03/25/state-cautions-hospitals-about-patient-complications-during-robot-assisted-surgery/xOAsxR80qH5mVENDdktjKL/story.html]
About Wright & Schulte LLC
Wright & Schulte LLC, an experienced personal injury firm, is dedicated to the belief that America's legal system should work for the people. Every day, the attorneys of Wright Schulte LLC stand up for the rights of people who have been injured or wronged, and fight tirelessly to ensure that even the world's most powerful corporations take responsibility for their actions. If you're looking for a law firm that will guarantee the aggressive and personal representation you deserve, please do not hesitate to contact Wright & Schulte LLC today. Free Da Vinci robotic surgery complications lawsuit case evaluations are available through yourlegalhelp.com, or call 1-800-399-0795.
Contact:
Wright Schulte LLC
812 East National Road
Vandalia, Ohio 45377
1-800-399-0795