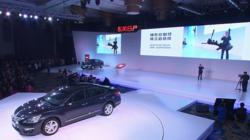 "A conventional product presentation is no longer enough to communicate all core messages and USPs of a product in an emotionally-charged, memorable way. " said Jason Yang, Vice President Sales & Marketing, Dongfeng Nissan Passenger Vehicle Company
Munich, Germany (PRWEB) April 17, 2013
RTT (http://www.rtt.ag), the world's leading provider of professional high-end 3D visualizations, has taken the deployment of augmented reality (AR) in marketing and industrial applications to an entirely new level. For Dongfeng Nissan's recent launch of the new Teana, RTT developed a spectacular AR-based presentation that offered the Guangzhou (China) public a detailed, scaled product experience in a hitherto unknown form and quality (http://www.rtt.ag/en/work/references/augmented-reality-presentation/). The RTT Marketing Solutions team assumed full responsibility for this stunning project.
The new Teana is the Chinese carmaker's flagship product and therefore of central importance to its expansion strategy. The vehicle was presented to over a thou-sand international media and industry representatives by Dongfeng Nissan Vice President Sales & Marketing, Jason Yang. During the unveiling, a virtual image of the Teana was projected onto the stage and orchestrated interactively with AR in front of exhibition visitors' eyes. A skillful synchronization of the AR application with Yang's gestures gave onlookers a comprehensive insight into the vehicle's exterior, as well as its technical advantages and refinements.
This was made possible by tracking Yang's on-stage movements in realtime and combining the information with scenes produced in RTT DeltaGen. RTT generated an AR model of the Teana from over 30 million polygons – a quantum leap over traditional AR applications that use a much smaller number of polygons and there-fore only produce semi-realistic presentations. The project, based on an NVIDIA hardware platform, ran for sixteen weeks from green light to live onstage deployment. ART, the leading vendor of virtual- and augmented-reality tracking systems, provided systems, including cameras and tracking software, for the stage setup.
"A conventional product presentation is no longer enough to communicate all core messages and USPs of a product in an emotionally-charged, memorable way. That's why we joined forces with RTT and used AR technology for the first time at a launch presentation. The results exceeded our wildest dreams. The project was therefore a worthy prelude to our continued cooperation with RTT," said Jason Yang, Vice President Sales & Marketing, Dongfeng Nissan Passenger Vehicle Company.
"The trend is not only towards 'mobile applications' for end consumers wanting to use AR solutions to explore products on their smartphones or tablets in an entirely new way; augmented reality is also an excellent medium for generating exciting 'wow' effects, especially for events. It is a totally new and spectacular way for companies to upgrade their product presentations and market presence. RTT offers them the necessary creative and technological means to do this," explains Rohan Pamani, Vice President RTT Marketing Solutions.
About RTT
RTT is the leading, one-stop-provider of high-end software, consulting and creative services in professional, 3D visualization. As a strategic partner, RTT offers sustainable, effective and seamless process support across the entire product life-cycle with its holistic approach. As a result, products are developed faster and more cost-effectively while time-to-market is significantly reduced. Through creative, photo-realistic CGI implementations, RTT enables innovative sales and marketing advantages and new dimensions of emotional brand staging. The Group´s customer-base includes companies like Adidas, Audi, BMW, EADS, Electrolux, Ferrari, General Motors, Harley-Davidson, Porsche, The North Face and Volkswagen. RTT AG was founded 1999 in Munich