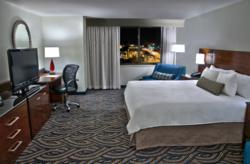 "The Marriott Annapolis Waterfront hotel is transformed into a modern space offering elegance and convenience. We look forward to welcoming new and returning guests to our redesigned and re-imagined spaces."
Annapolis, Maryland (PRWEB) April 19, 2013
Amid the historic charm and waterfront elegance of this captivating capital city, Marriott Annapolis Waterfront presents its much-anticipated renovation featuring a focus on the elements that connect this downtown Annapolis hotel to the majestic Chesapeake Bay. The transformation includes a complete re-envisioning of the lobby, guestrooms, suites and baths.
Taking cues from its picturesque surroundings, the innovative enhancements utilize luxurious textures and a nautically inspired color palette to create spaces that allow guests to embrace the spectacular waterfront views of sunsets, the sparkling Chesapeake Bay and passing sailboats.
"We are extremely excited to share our newly renovated property with the Greater Annapolis community," states Colleen Huther, the hotel's General Manager and Vice President. "The Marriott Annapolis Waterfront hotel is transformed into a modern space offering elegance and convenience. We look forward to welcoming new and returning guests to our redesigned and re-imagined spaces."
A Nautically Inspired Lobby Living Space
The lobby provides a carefree, peaceful escape from the everyday with its sailing-inspired design featuring simple yet elegant touches like intricate hand crafted materials and a custom-designed woven area rug. Design elements focus on reflecting the outdoors within the interior of the hotel. Furnishings and finishes were carefully selected to complement the simple elegance of the lobby seating and the property's dramatic waterfront location.
Annapolis' Only Waterfront Hotel Rooms and Suites
Newly-enhanced guest rooms, many of which feature balconies with expansive views of the Annapolis Harbor, the United States Naval Academy, and scenic downtown Annapolis, include contemporary décor and more modern furnishings. Guest rooms embrace the nautical senses with a crisp, clean, and relaxing ambiance. The soft textures emulate a sailboat's sail, drifting peacefully in the wind at sea.
Exclusive Experiences for Guests
Annapolis has long been an escape for busy Washingtonians, Baltimore natives and far-flung visitors alike. The charming Maryland capital offers exceptional shopping, dining, restaurants and sightseeing, with the Marriott Annapolis Waterfront as a centrally-located home base. The Annapolis waterfront hotel offers a number of specials and packages, including the luxurious Romance Package, which offers overnight accommodations, champagne and rose petals upon arrival and complimentary breakfast for two starting at $319 per night.
To learn more, guests can visit http://www.annapolismarriott.com or call 888.773.0786 for reservations