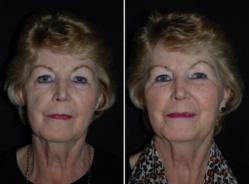 "I feel so much better – there is still a bit of a mark where the bruise was but overall it's a great improvement"
Northampton (PRWEB UK) 18 April 2013
Facial fillers may be commonly associated with lip plumping, filling deep creases or perfecting the cheekbones. These aesthetic uses can achieve excellent results with practically instant impact in adding volume to the skin and are a popular choice for anti-aging and rejuvenation treatments as well as aesthetic improvements. However, pioneering aesthetic physician Dr John Tanqueray has revealed that dermal fillers can also be very effectively used for medical purposes too, tackling deep damage to the skin left by trauma.
A 72 year old patient was referred to Mulberry House Clinic & Laser Centre after a fall which left severe damage beneath the skin's surface. Once swelling and bruises had faded, her right cheek appeared quite sunken, lending an imbalance to the whole facial proportions. The patient felt very self-conscious and embarrassed and was referred to Dr John Tanqueray by her GP.
Dr Tanqueray explains the treatment:
"This patient was struggling with the very visible long-term damage beneath the structure of the skin, where a deep hollow had been left on the cheek. The damage was very noticeable and impossible to conceal, making her face appear imbalanced."
"Juvederm Voluma is an injectable product suitable for deeper filling across larger areas in the face, giving a natural-look and lifting effect. Due to the depth and scale of the hollow, two treatment sessions were required to gradually build up and smooth out the indentation on her cheek."
"Being on Warfarin required particularly careful approach, as there is a heightened risk of bleeding and bruising. We used a cannula rather than a needle for a gentler treatment and I am pleased to say there was no bruising in either treatment session."
After 2 treatment sessions, the symmetry and balance of the face has been restored and the hollow has been corrected, leaving a smooth and natural contour which matches the other undamaged cheek.
The client said, "I feel so much better – there is still a bit of a mark where the bruise was but overall, it's a great improvement."
With a 14 year career in cosmetic treatments, Dr John Tanqueray works at the forefront of the industry. As well as founding his own clinic, Mulberry House Clinic & Laser Centre based in Hardingstone, Northamptonshire; he works closely with leading suppliers and developers of cosmetic treatments. He even trains other medical professionals in correct use of the powerful injectables and was one of the first in the country to offer Juvederm Voluma and Voluma training for other medical professionals.
John has worked in cosmetic treatments since 1999 and founded Mulberry House Clinic in 2002, offering a wide choice of the latest cosmetic, medical and laser skin treatments with highly professional service.
As well as popular anti-aging injections and dermal fillers, the clinic also offers innovative skin treatments including Thermage radiofrequency skin tightening, PRP (platelet rich plasma) treatment and Portrait plasma energy skin regeneration treatment. Advanced laser treatments are available for pigmentation, veins and redness as well as popular laser hair removal.
Mulberry House Clinic & Laser Centre is based in Hardingstone near Northampton in Northamptonshire and is still an independent, doctor-managed company.
For further information or to arrange a free confidential consultation, please call 01604 702630 or email: info(at)mulberryhouseclinic(dot)co(dot)uk.
Website for further information and contact details: http://www.mulberryhouseclinic.co.uk.