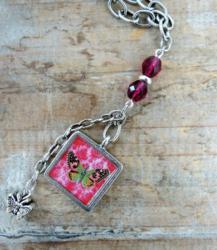 "Getting an online business profile for a start-up company is a key pillar that cannot be missed or ignored, it can support or demolish a brilliantly executed business." Ciaran Connolly, Co-Founder of ProfileTree
Dublin, Ireland (PRWEB) April 19, 2013
Fact: Mary Drea is a jewellery designer, many people are. When she found out a huge gap in the Irish market for sourcing beads, she expanded her business and launch Addiebeads which has the exclusive on beautiful original beads from all over the globe solely for Ireland. Mary sat down with ProfileTree for an exclusive interview on the business of jewellery design and bead sourcing.
When speaking on the advantages of being the boss of her own self, Mary said "Mainly that I am in control. I steer my business forward in the way I want it to go."
When it comes to the internet, Mary says that her is business is 100 percent online and so the internet and social media are a "Vital" part of her life as a source of beads and as a designer of elegant vintage items that are for everyone.
According to Ciaran Connolly, Co Founder of ProfileTree "Getting an online business profile for a start-up company is a key pillar that cannot be missed or ignored, it can support or demolish a brilliantly executed business."
Profile Tree's main goal is to help small business owners reach new customers every day with the most innovative online marketing tips and techniques.
About ProfileTree: ProfileTree is a free listing service where self employed and small business owner can create an online marketing profile. From Pencil or Portrait Artist to Self Employed Service Providers - anyone can create a skills profile on ProfileTree for free.