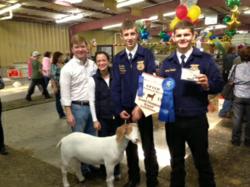 "Our purchase of this goat enabled WPP to support a great character-building program for youth in our area," said WPP President Will Perry.
(PRWEB) April 18, 2013
Worldwide Power Products(WPP), a power-generation equipment provider to industrial clients worldwide, today announced it has purchased the Grand Champion market goat at the 19th Annual Cypress-Fairbanks ISD (Cy-Fair ISD) Livestock Show and Sale. The 104-pound Boer goat, whose name is Eli, was raised by Cypress Ranch High School freshman Clay Spidle, son of WPP VP of Rental and Service Scott Spidle, as a Future Farmers of America (FFA) project. WPP plans to make Eli its mascot, possibly with the name of "Sparkie," in recognition of WPP's role as a leading supplier of power generation equipment.
Although livestock purchased through these sales are usually intended for the table, WPP's purchase will enable Eli to live out his life on a 3,000-acre working farm owned by Patricia and Dunbar Chambers, Jr. of Houston. Eli's time at the Brazos River farm will be spent in the company of several horses, a donkey and two Longhorn steers.
"Our purchase of this goat enabled WPP to support a great character-building program for youth in our area," said WPP President Will Perry. "WPP was very pleased to participate—and the farm owners tell us that Sparkie appears to be pretty happy about it, too."
To obtain animals for their FFA projects, high school students in the Cy-Fair ISD participate in a lottery. Winners of the animals then spend nearly a year caring for them before taking them to the Livestock Show and Sale, which is sponsored by the Cy-Fair ISD. Proceeds from the sales of these animals go directly to the participating students, who use the funds for college or some other, future project.
"Every animal at the show and sale is a lottery animal," said Clay Spidle. "They want the competition to be fair for everyone." Spidle, who next year hopes to raise a heifer, says the experience taught him time management, patience and responsibility. "I learned that if you are patient, good things will come to you," Spidle said.
About Worldwide Power Products
Recently recognized by Forbes Magazine as one of America's 100 Most Promising Companies, Worldwide Power Products specializes in power generation equipment including new and used engines and generator sets. As an independent company based in Houston, Texas, the company buys and sells new and used generator sets and engines across the U.S. and in worldwide locations. In addition, the firm provides engineering, maintenance and repair plus rental services for engines and generator sites on commercial and industrial job sites. Generator sets range in size from 20kW - 2500kW and engines range in size from 150hp - 4000hp. Brand specialties include Caterpillar generator sets and engines and Cummins generator sets. For more information and a complete list of inventory, visit: http://www.wpowerproducts.com.