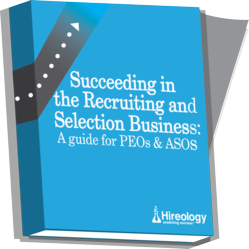 What we know from over 15 years in the recruitment and selection business is that for PEOs & ASOs to be successful in this new line of business, they have to have the right tools
Chicago, IL (PRWEB) April 17, 2013
The leading selection management platform, Hireology, announced a new E-book to add to their growing educational content collection. The guide, titled "Succeeding in the Recruiting and Selection Business: A guide for PEOs and ASOs" is an informational 30-page book that lays out a plan for businesses interested in adding recruitment and hiring to their service offering.
"What we know from over 15 years in the recruitment and selection business is that for PEOs & ASOs to be successful in this new line of business, they have to have the right tools," said Hireology CEO Adam Robinson. "In this E-Book, Hireology outlines the basic concepts and tools that these organizations need to know before jumping into this exciting and, potentially, profitable line of business."
The guide contains 6 sections that include the tools PEOs need to be successful and the pricing models that work. There is also a detailed section on how to roll out the recruiting service to customers so PEOs can make the most out of the new investment.
Hireology is a member of NAPEO and is attending the Annual Conference in September in San Antonio. Click here to download the full interactive E-book.
About Hireology
Hireology's award-winning Selection Management System helps companies organize their hiring process and leverage data to make better hiring decisions. Franchise systems, banks and financial institutions, healthcare systems, dealer networks, and other multi-site operators use Hireology's web-based Selection Manager™ to deliver consistent and repeatable hiring decisions in the field - leading to better hiring decisions, lower turnover, and increased profitability per location. For more information, please visit http://www.Hireology.com.