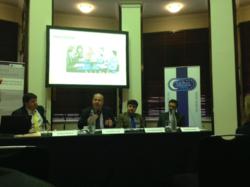 An Armenian–Azerbaijani organisation for reconciliatory affairs should be established, and a new-found economic pragmatism must be pursued.
London, UK (PRWEB UK) 17 April 2013
All perspectives on the unresolved Armenian–Azerbaijani conflict over Nagorno-Karabakh and the seven surrounding regions were highlighted during a landmark event at the headquarters of the Royal United Services Institute (RUSI) in Whitehall, London, attended by around 50 delegates. The event was jointly organised by The European Azerbaijan Society (TEAS) and RUSI.
The discussion considered the previously unexplored option of Azerbaijani–Armenian economic collaboration as a method of conflict resolution. This year marks the 20th anniversary of the passing of four UN Security Council Resolutions against the Armenian occupation, yet these remain unimplemented. In his initial address, Dr Jonathan Eyal, Director, International Security Studies, RUSI said: "Nagorno-Karabakh is sometimes described as a 'frozen' conflict but, as the conflict between Russia and Georgia demonstrated, such conflicts can easily reignite. The Nagorno-Karabakh conflict remains a threat to European security and is currently blocking the economic development of the South Caucasus."
In the keynote address, Dr Marat Terterov, Principal Director, European Geopolitical Forum (EGF), examined whether economic incentives could provide the key to bringing about an end to the impasse. He referred to the new EGF Research Paper 'A Pragmatic Review of Nagorno-Karabakh Resolution: Could Economic Incentives Help Break the Current Stalemate?' in which 50 international experts and other stakeholders from both sides were questioned on the topic. Dr Terterov said: "Azerbaijan clearly considers the conflict as 'unresolved' and not 'frozen', and the OSCE Minsk Group, tasked with achieving a negotiated peace, has achieved little progress over nearly 20 years. Similarly, I am not optimistic about achieving a political settlement on the basis of the Madrid Principles.
"Economic drivers need to enter the equation, as both Azerbaijan and Armenia continue to build their nations. It has been proven that conflict does not necessarily stop economic co-operation, and economic pragmatism is essential. The total economic development of the region – benefiting both countries – should be supported, and economic incentives should be provided. However, such incentives cannot achieve movement alone – they must be combined with a political settlement – although they can serve to 'tone down' the heat."
Dr Elkan Nuriyev, Counsellor, Caucasus Institute for Democratic Integration, Tbilisi, and former Founding Director of the Centre for Strategic Studies (SAM), Baku, said: "We need to involve local and international business leaders on both sides, amidst fears of reigniting hostilities and a potential economic decline across the region. Economic gain would reshape mindsets. An Armenian–Azerbaijani organisation for reconciliatory affairs should be established, and a new-found economic pragmatism must be pursued. A free economic zone in Nagorno-Karabakh should be established, with the Armenian and Azerbaijani communities working together on internationally-supported projects. Both parties need to demonstrate political will to achieve this. Working together would help overcome stereotypes and set an example to the youth of both countries. A format for interregional youth programmes could be created to alter concepts and perceptions. If these attitudes change, the nature of the political process will also change. Both parties need to see conflict resolution, achieving physical security and ensuring the return of the Internally Displaced Persons (IDPs)."
Dr Sevak Sarukhanyan, Deputy Director, Noravank Foundation, Yerevan, replied: "Azerbaijan and Armenia were economically linked during Soviet times. However, there are questions as to what Armenia would gain economically. Actual projects must be discussed. Armenian gas pipelines are under Russian ownership, so any profits from collaboration with Azerbaijan on energy projects would go to Russia. The Armenian economy has insufficient resources to invest in joint ventures. The EGF report should form the basis of further research, which would indicate the rationale behind Armenian and Azerbaijani economic collaboration and the types of projects that could be undertaken."
The presentations concluded with a question-and-answer session. The remainder of the day's polemical discussions took place behind closed doors, enabling a frank and honest exchange of views to take place.