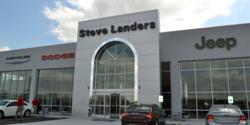 Come see the difference at the #1 Chrysler Dodge Jeep store in the state." -Steve Landers, Sr.
Little Rock, AR (PRWEB) April 18, 2013
Just a couple of weeks ago, Steve Landers Chrysler Dodge Jeep was located in a 50-year-old building on University Avenue. Today, the same great staff has moved to an all-new location just above the Rave theater off Colonel Glenn.
"We have a great new location here in West Little Rock," Steve Landers, Sr., explained. The new facility has been in the works for quite some time and a lot of thought and care went into the plans along the way. "Everything is new. We have state-of-the-art equipment here," Landers said.
Since the dealership opened it's doors, Steve Landers Chrysler Dodge Jeep has remained the #1 Dodge Chrysler Jeep store in Arkansas. The new facility is just one step the dealership is taking to become the #1 store in the nation. "The Steve Landers people are the difference here," Landers explained, adding that as a family-owned and operated dealership, Steve Landers Chrysler Dodge Jeep can offer customers more than what the corporate competitors can. "We aren't owned by a Detroit company."
The new facility also gave Landers the opportunity to hire additional staff, now employing over 150 people.
A few of the amenities customers can look forward to are the coffee shops and boutiques located around the site, as well as a comfortable and accommodating customer lounge and a huge showroom.
The staff at Steve Landers RAM Chrysler Dodge Jeep believes that making sure that vehicles are maintained correctly is essential to maximizing the dealership's performance. "We have a fully experienced service staff that takes pride in their expertise in maintaining Dodge, Jeep, and Chrysler service and auto repairs. The dealership does all types of work; from oil changes and state inspections to alignments and major repairs. The new facility offers longer service hours than other stores and has quick lanes to minimize wait time."