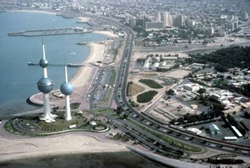 those looking to set up a business in the Middle East would clearly do well to follow this example, as it takes advantage of an as yet untapped market
London, UK (PRWEB UK) 18 April 2013
Pryce Warner International Group – According to the BBC, Duplays, a sport and social club, has now attracted over 40 000 members in the United Arab Emirates.
This translated into the company turning over roughly £1m last year.
Ravi Bhusari, co-founder of Duplays, commented: "Most of the institutionalised activity seemed to revolve around shopping malls or going for drinks or brunches. We figured plenty of people like to play sport and so the secret was to meet that need and build a website and a business that helped people discover what was out there."
The success of the company comes despite the Middle East's difficult reputation as a place for expats to start a business.
Roland Daher, part of Wamda (an organisation that supports entrepreneurs in the region), commented: "It's not one market, it's not one type of consumer, not one financial regulation. It's 20 or so different places; There are similarities, but far more differences. Take Egypt - there's a huge market, but people's spending power is very limited. E-commerce and digital concepts in particular haven't really taken off, so they're businesses that you can't monetise easily."
In the Middle East, many countries have expat populations of up to 80% or more, and these countries often have relatively little infrastructure to support western sporting events.
This has created a gap in the market that cunning entrepreneurs have taken advantage of.
David Retikin, Director of Operations at Pryce Warner International Group, commented: "It is notoriously difficult for expats to start a business in the middle east due to bureaucracy and cultural and linguistic barriers. However, those looking to set up a business in the Middle East would clearly do well to follow this example, as it takes advantage of an as-yet untapped market. Companies providing sport or organising sporting events in the Middle East would also present a strong investment opportunity in the region."