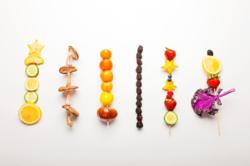 A vote for DeliverLean is a vote for a healthy lifestyle
Boca Raton, FL (PRWEB) April 17, 2013
DeliverLean, the health-focused gourmet meal delivery service that has become of one South Florida's fastest growing businesses, is pleased to be a finalist in the 15th annual Miami Herald Business Challenge.
The Challenge, created to find the region's best, brightest and most community-focused small businesses, is promoting their "People's Pick" online video contest from now until Monday, April 22.
DeliverLean joins a line up of diverse, consumer-focused, small businesses touching on technology, packaging and education, and distinguishes itself as the most viable lifestyle brand amongst the competitors.
With a foundation based on food and consumer's emotional connection to food, and a commitment to promote healthier, smarter eating habits, DeliverLean is quickly building a scalable health and wellness brand. The secret: DeliverLean's dedication to delicious food, quality ingredients and inspired preparation. Since launching just two years ago, DeliverLean has enjoyed triple digit sales growth and recently launched a new line of organic, cold-pressed juices. The company is a growing employer in the South Florida region, with plans to expand in other markets.
To vote for DeliverLean please visit: http://www.miamiherald.com/businessplanchallenge/vote/
About DeliverLean
DeliverLean is a healthy, gourmet meal delivery service based in South Florida. DeliverLean offers varied meal programs, shipped directly to home or office, that cater to health, dietary or weight conscious consumers looking to enhance their lifestyle by eating well and saving time. DeliverLean ships over 80,000 meals to South Florida residents every month, and that figure is growing daily. Visit http://www.deliverlean.com for more information.