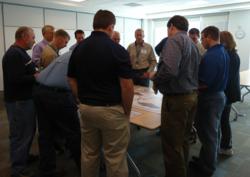 The training covers all the topics that I think new leaders need to know and provides an opportunity to practice what we learn.
Eagan, MN (PRWEB) April 19, 2013
MEA's Utility Leadership Academy (ULA) announces another successful Field Leader Training Program "On The Line: Building Team-Leader Skills". Over 40 crew leaders, team leads, and other non-traditional leaders from electric, gas, and metering departments from Alliant Energy, MGE, We Energies, CenterPoint Energy and other energy distribution companies attended the training.
Leadership is about making sure everyone is working towards a common goal. In the field, the goals of each team member can be as diverse as getting the job done quickly to doing it safe and well. In emergency situations, teams without clear leadership can quickly fall apart. For the energy industry, this can be dangerous; having effective teams in the field leads to safer, more reliable energy distribution.
Prior to the training, some attendees did not realize that they hold leadership positions. Jesse Johnson, foreman for CenterPoint Energy said, "I'm only in charge of a few people, so I never thought of myself as a leader. There is value in this training for someone in my position; what we do affects the team."
This unique program, designed for the energy industry field team leader, focuses on effectively directing the activities of their crew and communicating with management. The events include two full days of discussion, exercises, role plays, and simulations. Participants have an opportunity to test their teamwork and leadership skills in hands-on activities with gas or electric utility simulations.
"The training covers all the topics that I think new leaders need to know and provides an opportunity to practice what we learn," Virginia Pitts, senior instructor, Arizona Public Service said.
Topics covered include:

the benefits of planning your work,
leading teams,
improving safety,
resolving conflict,
and coaching crews.
For more information or to host a Field Leader Training Program, contact Shannon Miller at (651) 289-9600 x110, shannonm(at)midwestenergy(dot)org or visit the ULA homepage at http://www.energyu.org. Check out the training video on YouTube http://www.youtube.com/user/ElizabethMEA.
About the Utility Leadership Academy
MEA's Utility Leadership Academy is a program of leadership development courses and support tools such as online course offerings from MEA, Skillsoft, and Harvard Business Publishing as well as in person events, advanced leadership programs and webinars.
About MEA:
MEA serves the people that deliver electricity and natural gas to homes and business. MEA (Midwest ENERGY Association) was founded as a trade association over 100 years ago by distribution utilities, whose vision was to improve safety and efficiency. Today, utility companies around the globe benefit from MEA's industry learning seminars, operations summits, and other events. Members collaborated to develop EnergyU, the world's premier online training and testing system for gas and electric distribution utilities.