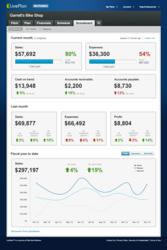 costs less than half that of other financial tools that attempt to shed light on the same kinds of business insights
Eugene, OR (PRWEB) April 17, 2013
Palo Alto Software announced today its official launch of the LivePlan Scoreboard. The Scoreboard feature revolutionizes financial management for small business. For the first time, small business owners can put together a budget and forecast, and then automatically bring in their actual financial results to understand exactly how their business is doing. The Scoreboard automatically compares actual financial results to planned and past results to give the business owner valuable insight and help understand which levers to move to grow their business, remain cash flow positive, and understand their key performance indicators. The Scoreboard empowers users to quickly and easily maximize profit centers within their business; identify and correct loss centers; and adjust payables and receivables (e.g., payment schedules, contract terms) in order to improve their business' overall financial performance.
"LivePlan now bridges the gap between a small business' ever-evolving plan for financial success and the unpredictable reality of day-to-day cash flow," commented Palo Alto Software COO, Noah Parsons. "We listened to what our customers wanted to get out of a small business financial management tool. When we did that, we immediately identified a void in the marketplace. This kind of functionality exists for giant organizations and Fortune 500 companies who spend tens of thousands of dollars for the targeted business intelligence that LivePlan is now making available to the smaller guys — the business owners and startups that make up our client base."
In addition to building and maintaining a relevant business plan and infographic pitch for their ventures, LivePlan subscribers will now be able to utilize the Scoreboard feature to:

Track business ups and downs and know exactly what to do to keep growing and bringing in profits.
Gain clear insight with alerts for overspending or low cash balances.
Connect directly to QuickBooks, or bring in their own financial data, to immediately see how their business is doing, anytime from any computer.
Forecast intelligently and adjust sales forecasts, expense budgets, and cashflow forecasts, in order to maximize profitability.
"This is what I've been writing about for years now," said Tim Berry, founder of Palo Alto Software. "It's about milestones, metrics, and management. It's an every-day process. It's running a business right."
"If you're not looking at your financials every day then you're not looking at your business every day," explained Palo Alto Software's VP of Product Development, Josh Cochrane, who was involved in the concept, development, and deployment of the Scoreboard. "People invest significant time and energy into building a viable business plan, then they launch and don't know how to take a pulse check to see how their company is doing compared to the previous period, previous year, and compared to how they'd planned for growth. With the Scoreboard, LivePlan allows businesses to identify inaccurate assumptions and unrealistic forecasts right away, so that they can adjust their plan and stay on course, rather than just start winging it and hoping for the best."
LivePlan's new Scoreboard functionality is available today, to all LivePlan subscribers. "We're offering a tool with more functionality and actionable insight into what a small business' financial numbers really mean than anything else out there on the market today," Sabrina Parsons, Palo Alto Software CEO, stated, "and we're proud of the fact that our solution costs less than half that of other financial tools that attempt to shed light on the same kinds of business insights. More functionality, more relevance, at a fraction of the cost - that's a deliverable we can feel really good about. We're excited to put this tool in the hands of entrepreneurs and are confident it will empower our customers to grow their businesses bigger, faster, and more intelligently than ever before."
About Palo Alto Software, Inc.
Palo Alto Software, Inc., makers of the #1 selling business planning software in the world, develops and publishes tools, products, and content to help small and midsized businesses plan, pitch, manage, and grow their ventures. LivePlan, the company's flagship product, is a SaaS (software as a service) solution for business planning and financial management. Palo Alto Software has been the market leader in its category for over 15 years, has served well over 2 million entrepreneurs, and has customers in 180 countries. Founded in 1988 by business planning expert Tim Berry, the company's CEO since 2007, Sabrina Parsons, successfully expanded its service offering into the cloud (the LivePlan product has over 70,000 customers). Palo Alto Software is a privately-owned corporation based in Eugene, Oregon. For more information visit http://www.paloalto.com