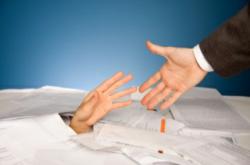 This paperless electronic Onboarding system is just another way HR Strategies is working hard to make their clients' lives easier.
Duluth, Georgia (PRWEB) April 30, 2013
HR Strategies is proud to announce their new paperless Onboarding system. Traditionally, new hire onboarding comes with many hassles for the employer. With piles of paperwork, employers must wait on new hires to complete lengthy forms. Many decisions, such as benefits selections, must be made; and those selections must be set-up. Other time-consuming tasks, such as receiving the verification of signed acknowledgement for the employee handbook, can cause back-ups and difficulties for employers. Finally, once the employee has decided everything and filled out countless paper forms, the employer has the tedious task of loading hand-written data into the HRIS and payroll systems.
HR Strategies has simplified this entire tiresome process by introducing their new Electronic Onboarding system. Features of this system include new hire process support, customizable workflow by client, and it is tightly integrated with the HR Strategies HRIS system. All of these characteristics make the entire new hire process far easier for both the employer and the new employee.
One of HR Strategies' goals is to make things as simple as possible for their clients. Some of the benefits for the employer include that the New Hire Package is completely paperless and it's quick and easy for employees to complete; thus expediting paperwork turnaround. Further benefiting the employer, the Onboarding system tracks the enrollment process, includes the I-9 and benefits enrollment, and it won't allow completion until new hire fills in all required information correctly. The system stores all of the data digitally for retrieval whenever the employer needs it, and the employer doesn't have to worry about not being able to read illegible forms. When the employee is happy, the employer is happy. With this system, the employee can complete the process from home before their first day. They have the opportunity to choose benefits with their spouse, and the completion of New Hire Package is quick and easy.
HR Strategies continues to strive to simplify time-consuming HR tasks for their clients. This paperless electronic Onboarding system is just another way HR Strategies is working hard to make their clients' lives easier.
About HR Strategies
HR Strategies provides the customizable HR Solutions (including but not limited to payroll, benefits, workers' compensation, tax administration, regulatory compliance, HR consulting, training solutions) and expertise of a large corporation's personnel department in an affordable and effective solution. HR Strategies enables clients to reclaim time, stabilize and reduce labor costs, and stay compliant with government regulations.