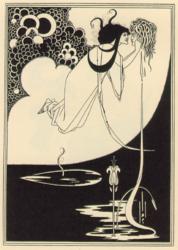 I have one aim—the grotesque. If I am not grotesque I am nothing.
New York, NY (PRWEB) April 19, 2013
Mighty Mack announces the release of its newest app featuring stunning works by master artist Aubrey Beardsley.
Aubrey Vincent Beardsley (1872 – 1898) was an English illustrator and author. His drawings in black ink, influenced by the style of Japanese woodcuts, emphasized the grotesque, the decadent, and the erotic. He was a leading figure in the Aesthetic movement which also included Oscar Wilde and James A. McNeill Whistler. Beardsley's contribution to the development of the Art Nouveau and poster styles was significant, despite the brevity of his career before his early death.
Beardsley's work reflected the decadence of his era and his influence was enormous, clearly visible in the work of the French Symbolists, the Poster art Movement of the 1890s and the work of many later-period Art Nouveau artists such as Pape and Clarke.
Beardsley was a public as well as private eccentric. He said, "I have one aim—the grotesque. If I am not grotesque I am nothing."
The full version of Mighty Mack's Drawings: Beardsley App features over 80 images of the great drawings from Vincent Beardsley.
This App is available for iPod Touch, iPhone and iPad. Optimized for iOS6, retina display and iPhone 5. It allows the users to share images via email, Twitter and Facebook, or save them to camera roll (with no watermarks). Share the artist bio via email. Select favorites. View the images one by one, or enjoy a slideshow.
Requirements

iPad, iPod Touch or iPhone, with iOS 5.0 or higher
Wifi connection to download the app
An internet connection for sharing images via email, Twitter or FB (no internet connection required to view the App content)
Click here to see the complete collection of Aramis Artists Apps released by Mighty Mack.
--
Mighty Mack is a leading publisher of distinguished digital products for the consumer and professional markets. The Company leverages newly available digital tools to create, design, and share new ways of consuming information and experiencing the world around us. The company has released a variety of best-of-class Apps, including Advertising Today, Morpheus Dreams, Where2Boss?, Agora Briefcase, Film Today, among many others.
To learn more about Mighty Mack please visit their website at http://www.mightymack.com or email them to press(at)mightymack(dot)com.