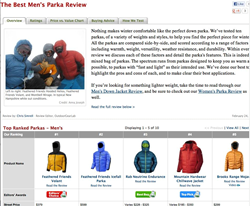 The reviewing involved many months of camping, snow camping, ice climbing, hiking and backpacking around the Eastern Sierra, Hyalite Canyon, Cody Wyoming, New Hampshire, and the Adirondacks.
Cheyenne, Wyoming (PRWEB) April 17, 2013
The most rapidly growing side-by-side outdoor gear review site, OutdoorGearLab, today reported the conclusions of its 2013 Men's Parka review. Many of the best selling and highest rated jackets were evaluated in extended head-to-head tests. They were judged in the areas: coziness, temperature ratings, versatility, waterproof qualities, comfort, durability and weight.
The review process took place in a broad range of in regions including the Adirondaks, New Hampshire, the Eastern Sierra, Cody Wyoming, and Hylalite Canyon. Testing involved activities ranging from backpacking and hiking, to snow camping, and regular camping, over a period of several months.
The winners:
Feathered Friends Volant' 2013 Editors' Choice award recipient. As reported by Gear Editor Chris Simrell, "The Volant is among the warmest down parkas we've reviewed. Every aspect of the jacket is designed to provide as much warmth as possible while also keeping weight down and maintaining durability. The Volant weighs only 28 ounces overall and is built to the same exacting standards as the company's high performance sleeping bags. Drawbacks include the lack of interior storage pockets, front pockets that make you look pregnant, and a hefty $379 price tag."
Rab Neutrino Endurance
Winner of the Best Buy award for 2013. This award is given to a product that balances a high score in our tests and a reasonable price. Simrell states' "the Rab Neutrino Endurance is a very warm down parka at a relatively low weight and packs well, making it an excellent choice for active winter pursuits like ice climbing, mountaineering, ski touring, and winter camping. The Neutrino Endurance has 8 oz. of 800 fill down. We found the Neutrino Endurance to be a significant jump in warmth compared to the lighter weight parkas in our review, not simply because of a slight increase in down, but rather because it offers better warmth and weather resistance due to its design, cut, and features. "
Mountain Hardwear Chillwave
Winner of a Top Pick award for 2013. This award goes to a product that is featured for its warmth and durability. Gear Editor Simrell expresses that, "This jacket is very warm. It is thick, burly, and equipped with many of the features you want in a super-toasty winter parka. Mountain Hardwear has used 650 fill down here, which is not as high quality as the other parkas in this review, but they have stuffed the jacket with a whole lot of it, about 12 oz. The use of 650 fill down also keeps the cost more reasonable."
OutdoorGearLab LLC, headquartered in Cheyenne, Wyoming, is dedicated to creating the world's best outdoor gear reviews. The company website is a free resource for people who love the outdoors and participate in activities such as hiking, climbing, backpacking, and camping. The company performs side-by-side reviews of outdoor gear and publishes the findings in comparative reviews. Each product is scored across a range of weighted areas, competing products are ranked, and awards are given to top performing products.