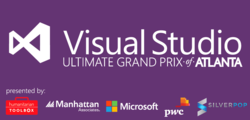 Daytona Beach, FL (PRWEB) April 17, 2013
Microsoft Visual Studio has selected Anthem Media to manage the implementation of a marketing program that will include sponsorship of the Grand American Rolex Sports Car Series race event at Road Atlanta raceway.
Anthem has developed a comprehensive customer engagement event and media platform for Visual Studio, Microsoft's application development solution. The platform will see Microsoft appear as race event entitlement sponsor of the Visual Studio Ultimate Grand Prix of Atlanta.
"When Anthem approached us with the concept to deliver this unique customer engagement experience at the Grand Prix of Atlanta, we were immediately excited," said Matt Nunn, Director, Developer Tools Product Marketing. "With the inaugural Grand Am Rolex Series race at Road Atlanta generating so much excitement in the market, it is a great opportunity for us to participate and share that with our customers."
The unique sponsorship program includes the entitlements for both the Rolex Series Race and the Continental Tire Series — both inaugural events at the famed facility. Prior to the Visual Studio Ultimate Grand Prix of Atlanta, the Continental Tire Series PricewaterhouseCoopers 250 will kick off the full day of racing action. PwC, an international accounting and business services firm, joins the weekend's activities as part of the Visual Studio's "Team to Win" themed activation. In addition, Microsoft will be promoting the Humanitarian Toolbox, an initiative that is enhancing global humanitarian efforts through collaborative development and distribution of innovative software and tools.
"We saw a great opportunity for Visual Studio to engage with customers at one of the world's most storied motorsports facilities," said Tom Pokorny, President of Anthem Media. "By extending that relationship across multiple customers we're able to provide a great platform for the Visual Studio 'Team to Win' message."
Along with Pricewaterhouse Coopers, SilverPop, provider of engagement marketing solutions, and Manhattan Associates, a global supply chain solutions provider, will also be part of the weekend's activities
On the racetrack, Visual Studio will be sponsoring the No. 9 Action Express Chevrolet Corvette. The association will bring together the "Team to Win" theme that Visual Studio will be promoting throughout the weekend.
The weekend's event will feature a variety of events for Microsoft customers highlighting the Visual Studio "team based" focus on application development and lifecycle management.
About Anthem Media Group
With offices in Overland Park, KS; Daytona Beach, Florida; Seattle, Washington; Los Angeles, California and Charlotte, North Carolina, Anthem Media Group's family of companies provides custom marketing and media solutions for many of the world's leading brands and businesses. http://www.thisisamg.com