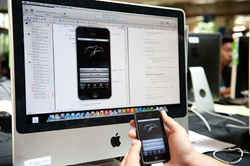 When students interact with instructors and peers with similar interests, they organically develop 21st century critical thinking and communication skills, and self-confidence.
Campbell, CA (PRWEB) April 17, 2013
Rhode Island and New England area students, get ready—iD Tech Camps has reinvented "camp" for the 21st century, and is bringing its innovative breed of summer fun to Roger Williams University in Bristol this July. As the national leader in summer technology education for kids and teens, iD Tech Camps—powered by internalDrive—will offer courses to ages 7-17. Courses range from game design with Minecraft and RPG Maker®, to programming with Java or Scratch. With a balance of indoor-outdoor activities, iD Tech Camps provides a well-rounded summer experience, energizing kids while satisfying parents. Students learn valuable STEM (Science, Technology, Engineering, and Math) concepts in a fun, small-group environment.
"We take students' interests and talents and show them how they can take their tech skills to the next level," explains iD Tech Camps President and CEO Pete Ingram-Cauchi. "When students interact with instructors and peers with similar interests, they organically develop 21st century critical thinking and communication skills, and self-confidence."
Students with STEM skills will be rewarded amidst a booming technical job market. According to the U.S. Department of Commerce, occupations in STEM are expected to grow 17% over the next decade. Engaging kids in technology at a young age is key to preparing them to fill these lucrative jobs in the not-so-distant future.
All iD Tech Camps programs are held on university campuses, giving students a taste of collegiate life and learning. With a guaranteed 8:1 student-instructor ratio, campers receive one-on-one personalized instruction. Through project-based learning, students attending the Rhode Island summer camp can learn to code Java, design games in Minecraft and develop role-playing games in a 3D world. They leave camp with a project they can be proud of—not to mention, a competitive advantage for future college applications.
"iD Tech Camps helped me identify what it was I enjoyed about technology," says Mark Grimm, a former iD Tech Camps student. Mark went on to graduate from MIT, and became a gaming industry professional. "More importantly, I realized that many people have successful careers in the video game industry."
The new Roger Williams University location offers a beautiful campus about 18 miles from Providence. Camp accommodations are equally impressive, with spacious computer labs and large glass windows for a clear view of the grounds and nearby bay. Those who stay overnight will enjoy new and comfortable dorms kept cool by air conditioning, while students benefit from AC in the computer labs as well. Other amenities include an impressive dining hall menu and head chef who greets campers at their first meal to discuss food options and dietary needs, along with large recreational areas for use during outdoor time.
"We're excited to be expanding to Roger Williams University," says Ingram-Cauchi, iD Tech Camps CEO. "The location is beautiful—and the facilities are top rate. We work with the top universities in the country, and we're pleased to have this university in our lineup."
By blending traditional summer camp with progressive technology education, iD Tech Camps remains the #1 summer tech camp globally. The addition of the new Roger Williams University location provides another opportunity for kids and teens to learn firsthand how their talents and passions can be transformed into future STEM careers.
ABOUT iD TECH CAMPS AND iD TEEN ACADEMIES
iD Tech Camps and iD Teen Academies engage students ages 7-18 in STEM education with summer programs for kids and teens held at over 60 prestigious universities nationwide, including Roger Williams University, Wesleyan, Princeton, Yale, Amherst, and others. Sessions are weeklong, day and overnight. Also pre-college, immersive iD Gaming Academy, iD Programming Academy, and iD Visual Arts Academy for Teens. Visit http://www.internalDrive.com or call 1-888-709-TECH (8324).