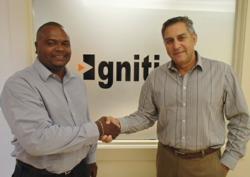 "With Ignition's scale and regional presence, [Ignition] will improve the product set, raise customer satisfaction and extend the reach into new markets." Alva Suckoo, CEO Blue Bison
CAYMAN ISLANDS and BERMUDA (PRWEB) April 18, 2013
Ignition Technology Group today announced the acquisition of the assets of Cayman-based Blue Bison Software Consultants Ltd. Ignition will provide the necessary investments in funding and resources to significantly enhance, support, extend and market the Blue Bison application set, which offers packaged and custom-built software solutions, primarily to firms in the financial services industry, throughout the region.
The Blue Bison applications are: HR Manager; Company Manager; Know Your Customer and the Database Risk Search solution. The initial focus for Ignition, leading providers of Governance, Risk Management and Compliance (GRC) technology solutions for clients in the offshore market, will be to provide upgraded features and improved support for the current Blue Bison client-base. This will be followed by the regionalisation of applications in order to meet the needs of clients in the Bahamas, Barbados, Bermuda, BVI and the Channel Islands with other markets following shortly thereafter.
Ignition's Group CEO Graham Pearson stated:
"We see a tremendous opportunity to build upon the already impressive Blue Bison client base. Through our Business Solutions Practice, headed up by Christopher Eaton, key enhancements will include tight integration with SharePoint, KnowledgeLake and social media plus the introduction of additional GRC solutions, including FATCA reporting. Our Core Technology Practice will be able to provide the clients with a complete solution including an optional secure Private Cloud hosting platform as well as 7 x 24 service desk and application monitoring".
Alva Suckoo, CEO of Blue Bison commented:
"I see this as the logical next phase of the evolution of Blue Bison. With Ignition's scale and regional presence, they will improve the product set, raise customer satisfaction and extend the reach into new markets. I am delighted for our clients and staff and foresee a very bright future for Blue Bison."
Contact
For further information please contact
Stephanie MacDonald
Group Marketing Specialist
The Ignition Group of Technology Companies
Direct: 345-525-5771
Email: smacdonald(at)ignitionmsp(dot)com
About Ignition
Ignition is an IT solutions organisation with clients in Europe, throughout the Caribbean, North America and Canada. Ignition's Business Solutions Practice provides comprehensive solutions to fit the needs of organisations such as banks, financial institutions, multinational companies, legal, accountancy practices, fund administrators /managers, and trust professionals. The Practice includes Software Solutions based on Microsoft technologies (principally through the SharePoint platform), Practice Management solutions (based on the market-leading ViewPoint application), and Records Management services. Ignition is also one of the leading IT service providers offering managed services, cloud computing, business continuity and disaster recovery, data backup and storage, virtualisation and 24x7 service desk support. Ignition has offices located in Bermuda, Halifax and Cayman Islands with representative offices in Curacao, Bahamas, Jamaica and Trinidad. Visit http://www.ignitionmsp.com for more information.
###