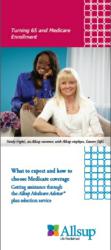 Your first year of Medicare eligibility is one of the most critical times because of the variety of choices you have to make and the potential for costly mistakes that may last your lifetime.
Belleville, IL (PRWEB) April 17, 2013
Each day this year, approximately 10,000 baby boomers will become eligible for Medicare by turning 65. However, not all of them will sign up for Medicare—with the potential for positive or negative consequences, according to Allsup, a nationwide provider of Medicare plan selection services through the Allsup Medicare Advisor®.
Individuals can enroll in Medicare plans in the three months before turning 65, the month they turn 65 and up to three months afterward.
"Turning 65 opens the door to Medicare eligibility, but it also raises some complex choices that can impact your entire family," said Paula Muschler, manager of the Allsup Medicare Advisor, a personalized Medicare plan selection service that offers impartial, customized research and enrollment assistance.
This is especially true when individuals are first eligible for Medicare because they are unfamiliar with the program and their situations often are more complex. For example, they may need to coordinate Medicare with group health plan coverage, or they may have dependents who also need healthcare coverage.
"Your first year of Medicare eligibility is one of the most critical times because of the variety of choices you have to make and the potential for costly mistakes that may last your lifetime," Muschler explained.
Choosing Medicare plans is both a healthcare and a financial decision. Independently conducted studies commissioned by Allsup find that the future of Medicare and healthcare-related costs topped retirement concerns. Yet, just 44 percent of 64-year-olds have begun planning for Medicare enrollment. Medicare covers about 60 percent of healthcare costs in retirement, according to the Employee Benefits Research Institute.
"Proactively planning for their transition to Medicare is one of the most important steps people can take in managing the quality and cost of healthcare as they age," Muschler said.
Allsup offers a free brochure for seniors and their financial advisors called, "Turning 65 and Medicare Enrollment." Following are key steps.
1. Understand how existing group health plan coverage may coordinate with Medicare.
Many people work past age 65. As a result, Medicare-eligible individuals who have health coverage through their employer or their spouse's employer may be able to keep that coverage and wait to enroll in Medicare Part B. However, this option depends on other factors, such as the size of the employer and how soon they expect to retire after reaching 65. Seniors should check with their employer's healthcare plan administrator to answer some of these questions.
2. Pay careful attention when first eligible and choose Medicare plans that match health needs and financial resources.
Individuals choosing traditional Medicare still have an average of 20 Medicare Part D prescription drug plans and 10 Medigap policies for supplemental coverage from which to choose. Adding to the importance of choosing wisely, Medigap plans are not required to accept someone after the person's initial enrollment period. Those evaluating Medicare Advantage plans over traditional Medicare also have an array of options, with an average of 20 plans from which to choose.
3. Follow Medicare enrollment rules and avoid penalties.
Not following Medicare enrollment rules at the outset can cost participants for as long as they have Medicare. Those who delay enrollment improperly may have to pay a late-enrollment penalty of 10 percent for each full 12-month period they could have been enrolled in Part B. Likewise, Part D imposes a penalty if someone goes for more than 63 days without coverage after enrolling in Part B. "Sometimes eligibility for Medicare is complicated by retirement dates, COBRA coverage or dependent coverage, which makes it even more critical to speak with a knowledgeable Medicare specialist," Muschler said.
4. Understand how Medicare costs are affected by higher income.
Higher-income beneficiaries pay higher Part B and prescription drug premiums. The 2013 monthly Part B premium is $104.90 for couples with income of $170,000 or below ($85,000 for individuals). However, the premium increases to between $146.90 and $335.70 for those with incomes above these thresholds. Likewise, higher-income beneficiaries can expect to pay from $11.60 to $66.40 more each month in prescription drug premiums.
To determine if someone must pay a higher premium, Social Security uses the taxpayer's Modified Adjusted Gross Income from their most recent federal tax return provided by the IRS. Typically, the most recent tax return is two years back. For example, for those turning 65 in 2013, Social Security looks at their 2010 or 2011 tax return. "Your income can change dramatically after you retire, so it's important to understand how your premiums will be determined and seek to correct that if needed," Muschler said.
5. Secure healthcare coverage for a spouse or dependents.
Becoming Medicare eligible can put workers at a crossroads if they have provided healthcare for their family through their employer plan. Some employers may continue to provide coverage to a worker's family, or they may need to purchase COBRA coverage or private coverage for their family.
For more information about reaching Medicare eligibility this year, contact the Allsup Medicare Advisor at (866) 521-7655. Visit Medicare.Allsup.com for an online presentation about the Allsup Medicare Advisor service.
ABOUT ALLSUP
Allsup is a nationwide provider of Social Security disability, veterans disability appeal, Medicare and Medicare Secondary Payer compliance services for individuals, employers and insurance carriers. Founded in 1984, Allsup employs more than 800 professionals who deliver specialized services supporting people with disabilities and seniors so they may lead lives that are as financially secure and as healthy as possible. The company is based in Belleville, Ill., near St. Louis. Visit http://www.Allsup.com or connect with Allsup at http://www.facebook.com/Allsupinc.
The information provided is not intended as a substitute for legal or other professional services. Legal or other expert assistance should be sought before making any decision that may affect your situation.