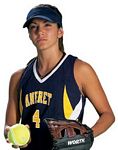 Buffalo, NY (PRWEB) April 22, 2013
Playing by the rules, understanding successful strategy and improving technique are three ways an athlete can ensure they play their best; having custom designed sportswear that helps them feel confident and self-assured is another. Thanks to its new low prices on custom printed sportswear, The Sporting Store is helping athletes of all levels and economic backgrounds experience the heightened self-assurance that comes from wearing high-quality, custom-designed sportswear that celebrates their team identity.
Studies have shown that feeling confident is critical for any athlete who wants to perform well during competition; if athletes don't feel confident, they're not going to play their best – it's that simple. The Sporting Store specializes in offering top-tier custom sportswear designed to help any athlete feel more confident and more comfortable during competition and practice.
From complete uniforms to separates, like jerseys, jackets, shorts and caps, The Sporting Store offers a complete range of athletic gear for football, baseball, basketball, hockey, golf and more, and the customization process is simple: Choose a team's colors and add the team name, logo, names and numbers to make the sportswear unique.
Visitors can choose to customize in-stock items or start from scratch and create a completely customized team order using one of our eight custom jersey builders or team uniform designer applications. These simple, online design tools let users design the athletic wear to suit the users' tastes, and the company's skilled artwork department will work with users to make sure the design is just the way they want it, even sending proofs to approve before the order is printed. The design process only takes a few minutes from start to finish and users can be enjoying the uniquely designed sportswear in just two to three weeks.
In addition to its custom design option, The Sporting Store also offers a huge selection of ready-to-wear sportswear ideal for casual and serious athletes, coaches and even fans. In-stock, non-customized sportswear is usually shipped within 24 to 48 hours of ordering.
To learn more about the products offered by The Sporting Store, including how easy it is to design custom sportswear, visit their website at http://www.thesportingstore.com/ or call toll-free at 800-435-2755.