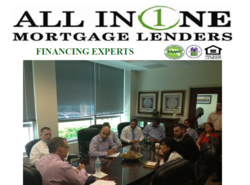 We're making the wheel work better for us
Miami, FL (PRWEB) April 17, 2013
"We're making the wheel work better for us!" says CEO Eddy Fernandez at the beginning of the 1st Quarter Loan Originators meeting for the Corporate Office.
"With the first quarter behind us, there are three quarters left in the year to continue the success AIO has experienced this year."
With a growth of almost a dozen new members, momentum continues to build in the right direction.
"We are growing faster because of the professionalism and knowledge in the real estate market we display." says Orestes Cruz, Corporate branch manager.
AIO seems to be leading the way and there is no reason to believe they will not have a better than the previous years.
Questions. Comments.
Call CEO Eddy Fernandez
Direct # 305 281 1862
Why All In One
All In One Mortgage Lenders, LLC is your place whether buying a first home or refinancing your current loan. Our staff has over 100 years of combined experience serving the real estate and building industry of Florida. As Members of the South Florida community, the team at AIO Mortgage Lenders understands the special needs of our community. We know it is important to our buyers to take advantage of new opportunities and rapid changes in a timely manner. AIO takes great pride in out strong relationships and ensure that our customers receive the highest level of service from our Team. At AIO Mortgage Lenders we provide constant communication with your Realtor/Builder. We have earned our excellent reputation by opening more doors to homes in our community that your average lender possibly could. We at All In One Mortgage Lenders are open to help you close!