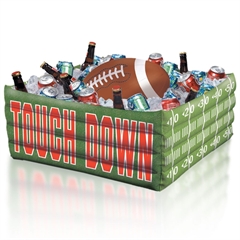 Chicago, IL (PRWEB) April 18, 2013
Occurring towards the end of April will be a sporting event that will have fans excited about football again. The NFL draft will be taking place, and Chicagoland online party supplies retailer, Windy City Novelties, provides football party supplies for individuals to celebrate the exciting occasion.
The NFL Draft is the time of the year where teams from the NFL are able to draft college players they have been eyeing throughout the college football season. The event is televised for fans to witness all over the country. The first round draft will take place on Thursday, April 25th, at 8:00PM ET. The second and third rounds will occur the following Friday at 6:30PM ET, followed by the remainder of the rounds on Saturday, April 27th at noon (ET). Fans are able to watch every second live on the NFL Network.
After all the hype from March Madness has ended, sports fans have another event to celebrate. Windy City Novelties provides football party supplies for fans to host draft parties at their respective homes. Individuals can decorate their homes with general football decorations, such as football shaped banners or pennant football themed banners, as well as wall cutouts and football shaped danglers. To make for easy party decorating, Windy City Novelties provides Football Decoration Kits that include everything needed to decorate for a draft party. Hosts can keep drinks and refreshments chilled in inflatable football themed coolers in shapes such as a field goal post, beer mug, and more.
Bars and restaurants can also host NFL draft viewing parties. Football banners, wall cutouts, or other football themed decorations cans be placed around the restaurant. Owners are able to momentarily disguise tables with Football Table Accessories. For easy cleanup, drinks and food can be served on football themed paper goods. Windy City Novelties provides small football themed trinkets and goodies that can be handed out throughout the night in raffles or upon entry.
The Windy City Novelties website contains a separate NFL Party Supplies section for fans to decorate their homes with their favorite team's colors and logo. Drinks and football approved appetizers can be served on NFL Team Paper Goods with the individual's favorite team's logo printed on it. Fans can also sport their favorite team's gear and accessories. Windy City Novelties provides many silly hats and other sporting accessories that can be worn at NFL Draft parties.
*NFL is a registered Trademark of the National Football League. All other NFL related trademarks are trademarks of the National Football League.
ABOUT WINDY CITY NOVELTIES
Windy City Novelties, a party supply company founded in 1983, is known for their great selection and competitively priced items. They have an A+ rating from the Better Business Bureau and are also a NexTag 5 star Seller. From their website, windycitynovelties.com, they offer fast and friendly shipping along with great customer service. From glow sticks in every color of the rainbow, to party decorations in a variety of themes, and even a vast selection of Halloween costumes at the best prices, Windy City Novelties has over 15,000 products and adds more each week. Windy City Novelties also provides party and gift ideas and advice. For help or more suggestions, email our experts.