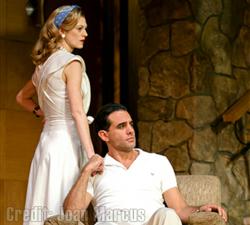 Our faux stone panels are a natural for set design
Deer Park, NY (PRWEB) April 22, 2013
Faux stone veneer from FauxPanels.com has been featured in concert sets, stage designs and numerous TV shows such as "Celebrity Apprentice," "Extreme Makeover: Home Edition," "I Hate My Kitchen," "Man Caves" and more, but now Faux Panels, a Barron Designs company, is proud to announce its first appearance in a Broadway show. The Roundabout Theatre Company's revival of "The Big Knife" at the American Airlines Theater incorporates Carlton Fieldstone siding panels as part of its set design.
"We were thrilled when we heard about this project," said Steve Barron, president of Barron Designs, the parent company of FauxPanels.com. "Our products have been on a lot of TV sets and stage shows, but Broadway is special – especially for us as a New York-based company."
"The Big Knife" originally debuted on Broadway in 1949 in a production starring John Garfield and directed by the legendary Lee Strasberg. The play by Clifford Odets was later made into a 1955 movie of the same name starring Jack Palance, Ida Lupino and Shelley Winters. This current production by the Roundabout Theatre Company is the first Broadway revival of "The Big Knife."
Set in the golden age of Hollywood, Odets' play addresses the timeless question of how to keep your integrity while faced with the challenges of success. Tony Award®-nominee and Emmy® Award-winner Bobby Cannavale stars as Charlie Castle, the popular star at Hoff-Federated studios, whose career is threatened when a woman comes forward with information that could end his career. The studio heads will stop at nothing to protect their star, but can Charlie live with the consequences? Directed by Tony Award®-winner Doug Hughes, this biting tale addresses the issue of how to stay true to yourself when other people just want you to do what they expect.
The set, designed by John Lee Beatty, incorporates Faux Panel's Carlton Fieldstone in Sierra Sand, which was then painted to achieve the exact shading and color needed for the Broadway production. Made of polyurethane, the faux stone siding panels are easy to paint, cut and install, providing the realistic look and texture of genuine stone without the weight.
Due to its heavy weight and high cost, real stone is completely impractical for theatrical design. For a long time, set designers were forced to use faux painting techniques on flat surfaces that rarely achieved the natural look they wanted. Foam substitutes were used for a time but easily chipped, which meant lots of repairs and touch ups, especially if a show ran a long time.
Durable polyurethane siding panels from Faux Panels will outlast virtually any stage production no matter how much wear and tear they endure. Made from molds of real stone, even onstage visitors will be fooled by Carlton Fieldstone.
"We just love working with set designers. It's a total win-win because by using our faux stone and brick siding panels, they can create any design they can imagine while achieving the most realistic results possible," said Barron.
The Roundabout Theatre Company's production of "The Big Knife" at the American Airlines Theater will run through June 2, 2013. For more information on the show and tickets visit http://www.roundabouttheatre.org/Shows-Events/Big-Knife.aspx.
FauxPanels.com is an industry leader due to its outstanding customer service and the best selection of realistic faux brick, stone and wood panels and columns on the market. Its products have been regularly featured on television shows such as "Celebrity Apprentice" and numerous appearances on "Extreme Makeover: Home Edition." FauxPanels.com is a subsidiary of Barron Designs Inc., a family-owned design and home improvement business operating since 1972. For more information, visit FauxPanels.com.