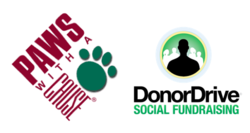 Heidi set up a Paws With A Cause fundraising page through DonorDrive for Noah and raised $10,000 in only 19 hours.
(PRWEB) April 18, 2013
Paws With A Cause first fundraising campaign through DonorDrive was for teenager Noah Brassil, born with Cerebral Palsy and living with Epilepsy as well. Samantha Leonard, PAWS® Development Administrator, says their Client Services Department got an unusual question from Noah's mom Heidi: "She asked what was the fastest anyone has ever raised funds to get their dog. My first client I worked with had raised $10,000 in 45 days. That was amazing. They were in a small community and they were basically asking every person that they saw. And they also had a shop in their town that was spreading the word to everyone that came in. They also received a few generous donations to help them reach their goal. Heidi decided she was going to beat that."
Heidi set up a Paws With A Cause fundraising page through DonorDrive for Noah and raised $10,000 in only 19 hours. She was at the hospital with Noah waiting on test results and wasn't even aware that they had raised enough to get Noah's dog in less than a day. Joe Dulin, Paws Director of Advancement broke the news to Heidi: "I just called to congratulate her and she was unaware that she had hit her goal. This success was exactly what we hoped would happen. It was the perfect model for us to go forward with fundraising through DonorDrive." In the short time since, four more PAWS clients have asked to do campaigns to get their dog through DonorDrive.
Before the campaign launched, Samantha saw that Heidi had a large network on Facebook and coached her on how to make the campaign successful: "I told her it was really about telling Noah's story and choosing a good picture for the campaign page, since that's all customizable in DonorDrive. After that, all she did was post it on her Facebook page and email family and friends with the link to the fundraising page. That was really it." Heidi was ecstatic when she heard. The campaign went on to raise more than $2,500 over their goal and Heidi asked that these funds be used toward a dog for someone else.
Joe felt that adding the right fundraising vehicle for Paws With A Cause was a necessity: "As we redesigned the website for PAWS we wanted to look at a peer-to-peer fundraising platform, because I really felt that that was a strategy that could be successful for us given the nature of relationships with our donors from all across the country."
Joe's choice of DonorDrive was backed by about 4 months of research headed up by Samantha: "We looked at numerous platforms including some of those smaller online platforms. A big concern was how customizable the software was so it would match our new website. We really couldn't get that out of some of those other platforms." With their DonorDrive site up, she's been very happy with the success. "DonorDrive matched our colors, font and brand so people are unaware they've left the main PAWS site to go to DonorDrive. That was so important to us and the process went really smoothly."
Joe sees peer-to-peer fundraising through DonorDrive as an important part of the overall strategy for PAWS' future: "It allows people to spread the word using their network in a very easy way. But the other thing that I'm really interested in is completing the circle. We very much want to report back to donors once the dog has been placed. That lets them know that their money has gone to support someone who is now being helped by an Assistance Dog. DonorDrive allows us to do that."

Paws With A Cause® enhances the independence and quality of life for people with disabilities nationally through custom-trained Assistance Dogs. PAWS® increases awareness of the rights and roles of Assistance Dog Teams through education and advocacy. They have placed over 2500 dogs. Learn more at PawsWithACause.org
DonorDrive® is truly effective software dedicated to event-based social fundraising for medium and large non-profits. Children's Miracle Network Hospitals, Doctors Without Borders, JDRF Canada and Team ASPCA are a few of the causes that use DonorDrive Social Fundraising software for their runs, walks, rides and virtual campaigns to engage constituents and maximize donations. Every year, people are raising millions for great causes through DonorDrive. Learn more at DonorDrive.com