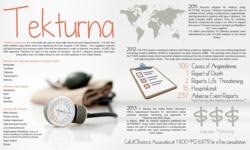 (PRWEB) April 18, 2013
Tekturna (aliskiren), produced by Novartis, is a once-daily pill used to treat high blood pressure (hypertension) and is the first "Renin Inhibitor" drug that regulates the renin enzyme in the kidney. This process assists by narrowing the blood vessels and removes water from the bloodstream in order to improve overall circulation (i). In 2011, the FDA determined that aliskiren products had been prescribed over 2.4 million times to over 451,000 patients in the United States (ii). According to the National Institutes of Health, Novartis has marketed aliskiren under the following names: Amturnide, TekAmlo, Tekturna, TekturnaHCT, and Valturna (iii).
According to a press release from Novartis, the company stopped its ALTITUDE medical study in December of 2011 because Tekturna increased the risk of nonfatal stroke, kidney complications, hyperkalemia, and hypotension in patients with Type-2 diabetes. The study was conducted on the part of Novartis in an effort to expand the uses of Tekturna due to the "product profitability in 2011 was negative (iv)." Additional adverse events were recorded by The Institute for Safe Medication Practices in there October of 2012 issue of Quarter Watch which stated that 100 cases of angioedema (swelling) were reported by Tekturna patients in the first quarter of 2012 (v). The same publication also detailed other cases that included one report of death, two reports labeled life threatening, 15 reports of hospitalization, and a final total of 237 Tekturna adverse event reports, "more than any other blood pressure medication (v)."
The infographic issued by d'Oliveira & Associates provides general information on Tekturna as well as lists possible side effects. Side effects allegedly connected to the high blood pressure drug may include: kidney complications, hyperkalemia, angioedema, heart attack, stroke, and/or birth defects. Visit the Tekturna page and view the infographic here: Tekturna Infographic
If you or a loved one has suffered any injuries after taking Tekturna, you may want to file a claim. You should find the best Tekturna lawyer because you may only have one chance at justice. A personal injury lawyer familiar with this blood pressure drug may be able to provide you with important personal and legal advice. d'Oliveira & Associates, P.C., is working with some of the more experienced dangerous drug lawyers who are handling these cases. Please contact the law offices of d'Oliveira & Associates, P.C. at 1-800-992-6878 or fill out a contact form for a free legal consultation.
Sources:
(i) http://www.tekturna.com/info/treating-high-blood-pressure.jsp
(ii) http://www.fda.gov/Drugs/DrugSafety/ucm300889.htm
(iii) http://www.nlm.nih.gov/medlineplus/druginfo/meds/a607039.html
(iv) http://www.novartis.com/newsroom/media-releases/en/2011/1572562.shtml
(v) http://www.ismp.org/NEWSLETTERS/ACUTECARE/showarticle.asp?id=32