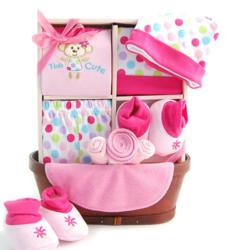 Creative Items to include in Baby Gift Baskets.
(PRWEB) April 19, 2013
For creative types, making a baby gift basket can be a fun and rewarding project. For those that are ready to attempt to make a basket at home, the staff at GiftBaskesPlus.com has compiled some helpful suggestions of fun and useful items to include in homemade baby gift baskets.
Great items to put in baby gift baskets are anything bath related. Include items such as rubber duckies, shampoo, baby soap and terry cloth baby wash cloth sets. There are many baby bath products available on the market so make sure to get a good variety. Plush animals are fun and exciting baby gifts and be sure not to just limit it to teddy bears.
New parents are always looking for ways to preserve memories to pass on to their child when they get older. Handprint and foot print kits, first hair cut keepsake box, first tooth keepsake box and plant a tree kits are just some of the precious memory items that you can include.
The first step in the process is figuring out what type of baby theme to base the basket on, as this will decide which items will go into the basket.
Now, it's time to go shopping: Finding items should be easy. Go to baby stores, party stores, craft shops, etc., keeping the theme in mind when selecting items to use in the gift basket.
Don't forget the basket: While shopping for the goodies to go into the basket, keep an eye out for a basket or a decorative box. Make sure it is sufficiently sized so that all the items will fit snugly. Party stores, craft shops and stores that sell decorative home goods are great places to find baskets. For a more professional presentation, try color coordinating the basket and gifts. Be sure to add some filler to the bottom of the basket. This can be tissue paper, crinkle cut filler, foam, etc. Hand tie a bow made of either ribbon or fabric in complimentary colors and finally attach a handwritten gift card.
Prefer to leave it to the professionals? GiftBasketsPlus.com offers a stunning array of baby gift baskets and baskets for every occasion, theme and holiday. GiftBasketsPlus.com has been delivering the finest gift baskets since 1998. In addition to baby gift baskets, GiftBasketPlus.com also offers gourmet baskets, birthday gifts, organic gift baskets, kosher baskets, spa gifts, corporate baskets, thank you gift baskets, romantic gift baskets and even gift baskets for pets.