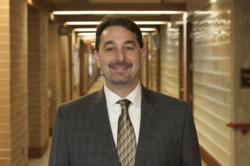 PITTSBURGH, PA (PRWEB) April 18, 2013
Employees at Pittsburgh Technical Institute (PTI) characterize Greg DeFeo as a leader defined by strong vision, integrity and student focus. He has advanced college enrollment during his seven years as PTI's leader with an unwavering commitment to each student's career potential. No barriers exist between DeFeo and his employees and students. He embodies an open door policy because his office quite literally has no door.
While the recognition may have been a surprise to DeFeo, the announcement that their president had been selected for the honor of a 2013 Diamond Award was of little surprise to PTI employees who nominated him for a recognition they feel is so well deserved.
DeFeo is one of four individuals selected for the Pittsburgh Business Times' 2013 Diamond Awards in the Large Company category. The award recognizes top CEOs and Presidents for outstanding business leadership, customer focus and community service in the Pittsburgh region. Honorees were announced at an awards program at the Duquesne Club on April 18, 2013.
DeFeo considers his most notable achievements to be PTI's transition from a commuter college to a complete residential campus and PTI's reputation of excellence and connection with regional employers who turn to PTI for qualified graduates.
President since July 1, 2007, DeFeo previously held the position of Executive Vice President for five years. Under his leadership, PTI has experienced strong enrollment trends, welcomed thousands of new students, improved student retention, introduced institutional grants to help families bridge the financial aid gap, and enjoyed being a part of alumni career success.
He has managed PTI's ability to respond to industry and career opportunities by introducing workplace-focused programs in Smart Building Technology, Nursing, HVAC Technology, Welding Technology, Oil and Gas Electronics, and Culinary Arts. and expanding the college's instructional reach through PTI Online, which now offers five fully online programs.
In 2012, PTI recognized a growing population of veteran and active military students by creating an exclusive Military Lounge on campus. Equipped with computers, comfortable, furniture, information resources, a large-screen television, and free coffee, the lounge honors military servicemen and servicewomen by providing a comfortable, private place for studying and connecting with fellow soldiers.
DeFeo was included in The Pittsburgh Post-Gazette's quotes of the year for his words at the dedication ceremony for the lounge: "It is both an honor and an obligation to help American soldiers transition to civilian life. Our Military Lounge is just one of a collection of initiatives PTI has introduced to salute and pay tribute to those who have served us in the defense of democracy and the freedoms we enjoy. We honor those who have served to protect our precious right to pursue higher education."
Investing in campus facilities, PTI has added three student residences to provide on-campus living arrangements for 465 students in apartment-style units. Under his leadership, PTI also invested more than $5 million in new equipment and educational labs over the past 5 years.
This year, PTI broke ground on an Energy Technology Center to accommodate technology and learning space for its School of Energy and Electronics Technology and School of Trades Technology. In addition to the college's response to the region's energy industries, PTI recently introduced new programs in nursing and culinary arts, completed construction of a nursing lab and started construction of an on-campus Culinary Arts Center.
PTI has been recognized among Pittsburgh's Best Places to Work in 2007, 2011 and 2012.
Greg DeFeo is originally from Nashville, TN and a graduate of Father Ryan High School in Nashville and the University of Tennessee, Knoxville. He resides in Robinson Township with his wife, Vicki, and daughter, Rachel, a student at Montour School District.
ABOUT PITTSBURGH TECHNICAL INSTITUTE
Offering career-focused education since 1946, Pittsburgh Technical Institute is a two-year college with a 180-acre campus in North Fayette, west of Pittsburgh.
PTI offers degree and certificate programs in areas such as, Business, Criminal Justice, Hospitality and Culinary Arts, Design, Healthcare, Nursing, Information Technology, Trades Technology, and Energy and Electronics Technology.
PTI students can take advantage of online course offerings, on-campus residence halls, student activities, intramural programs and community service programs.
PTI is accredited by the Middle States Commission on Higher Education.
PTI was recognized by its employees as one of the region's Top Places to Work in a 2012 study commissioned by The Pittsburgh Post-Gazette and is designated a Military Friendly School for the third consecutive year.
For more information, call 1-800-784-9675, or visit [ http://www.pti.edu/.