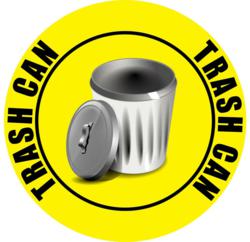 "The trash can sign has reduced the amount of litter in our facility. The bright bold colors really stand out."
Lake Oswego, OR (PRWEB) April 22, 2013
When a business is successful and at the top of their competition, they have more than likely implemented programs such as 5S, Sigma, Lean, and Kaisen. These programs and others will teach a business on how to create safety and organization in the workplace. Even the most common item like a trash can, will have a profound effect on the overall bottom line of a business. Creative Safety Supply is now offering industrial strength trash can floor signs that will compliment the efforts to create an environment of order and safety.
Accidents can happen when a piece of food or other product that has been tossed on the floor causes someone to slip and fall. By having a visible bright trash can sign that employees can locate easily will reduce litter and trash that may accumulate in the corner, on the floor, or at an employee's workstation. Preventing accidents will reduce compensation costs for the employer and increase productivity. Employees who take ownership of their own trash will contribute to cost savings for the company by reducing the number of custodians and hours required to clean.
The floor sign is made from industrial—grade vinyl and is available in sizes from 12 inch to 32 inch. Installation is simple and quick with the peel-n-stick application. The sign is made with thin, no-lip profile, and is UV protected which is ideal for identifying garbage cans that are placed outside. The sign will last up to seven years without losing its top-layer built in traction or its color.
A custodian commented, "The trash can sign has reduced the amount of litter in our facility. The bright bold colors really stand out."
For more information about Industrial Strength Trash Can Floor Signs or other popular floor signs, please visit http://www.creativesafetysupply.com/Floor-Signs/ or call toll-free (866)777-1360 to speak with a professional representative.