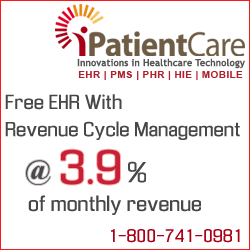 It's the time professional and institutional billing for physicians' offices and Rural Health Clinics (RHC) get transformed by extending the EHR to facilitate clinically-driven Revenue Cycle Management (RCM)
Woodbridge, NJ (PRWEB) April 18, 2013
iPatientCare announced today to take its commitment to provide Meaningful Use certified EHR and integrated Billing System for ZERO Dollar to those physicians' offices that find in-office billing burdensome, straining their time, money, and resources, and hence, prefer to utilize the services of billing experts for handling complete Revenue Cycle Management (RCM) services as back-office operations directly through the iPatientCare application.
"iPatientCare has been leading transformation of the US healthcare industry by implementing its awards winning ambulatory EHR at physicians' offices for more than a decade. It's the time professional and institutional billing for physicians' offices and Rural Health Clinics (RHC) get transformed by extending the EHR to facilitate clinically-driven Revenue Cycle Management (RCM)," said Udayan Mandavia, President/CEO, iPatientCare, Inc.
He further added, "Physicians' offices/RHC may utilize iPatientCare's billing services at 3.9% of monthly collected revenue, compared to some external billing services charging from 5% to as much as 12% of monthly collections. This option will ensure their compliance to Meaningful Use, help them collect Federal Stimulus incentives, and focus on clinical best practices, as being promoted by the ongoing healthcare reforms in our country."
Sunil Bagtani, General Manager, Marketing/Sales (RCM) elaborated," iPatientCare RCM services range from filing claims electronically all the way up to full practice management involving the posting of payments received from insurance companies, filing claims with secondary/tertiary insurances, and billing patients for any remaining balance after insurance has paid its share. iPatientCare also offers its clients the benefit of monthly practice management reports that aid providers in making critical business decisions affecting the practice."
"Sending the claims out has never been a tough task for any practices, but we specialize in increasing the first pass acceptance ratio. Our highly trained professionals coupled with the claims scrubbing engine take care of getting the claims paid in first submission. It is a range of services where superior technology plays a focal role, and that is what precisely differentiates iPatientCare from the rest" was the comment from confident Kedar Mehta, CTO, iPatientCare.
iPatientCare RCM is an end-to-end Revenue Cycle Management Solution that enables healthcare providers focus on their core competencies and leave billing through collections to iPatientCare.
About iPatientCare
iPatientCare, Inc. is a privately held medical informatics company based at Woodbridge, New Jersey. The company is known for its pioneering contribution to mHealth and Cloud based unified product suite that include Electronic Health/Medical Record and integrated Practice Management/Billing System, Patient Portal/PHR, Health Information Exchange (HIE), and mobile point-of-care solutions that serve the ambulatory, acute/sub acute, emergency and home health market segments.
iPatientCare EHR was among the first to be certified by CCHIT in July 2006 and is currently CCHIT 2011 fully certified and ONC-ATCB 2011/2012 Certified Complete EHR for Meaningful Use. The company has won numerous awards for its EHR technology and Mobile applications and is recognized as an innovator in the field, being a pioneer to offer an EHR technology on a handheld device, an innovative First Responder technology to the US Army for its Theatre Medical Information System, the first to offer a Cloud based EHR product. iPatientCare is recognized as one of the best EHR and Integrated PM System for small and medium sized physicians' offices; has been awarded most number of industry Awards; and has been recognized as a preferred solution/MU partner by numerous Regional Extension Centers (REC), hospitals/health systems, and academies. Visit http://www.iPatientCare.com for more information.