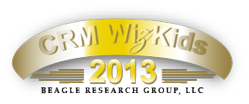 Focusing on delivering customer value first, listening to customers in real-time and serving their needs pro-actively in a serious and professional way are all hallmarks of successful software giants of tomorrow. - Guy Nirpaz, Totango CEO
Palo Alto, CA (PRWEB) April 17, 2013
Totango announced today that their customer engagement management platform for SaaS and online businesses was awarded Beagle Research Group's WizKids 2013 CRM Award. This award is granted to companies whose advanced business technology solutions have an important and positive impact on the CRM market.
The overall judging and evaluation were conducted through a series of surveys and an in-depth interviews with Totango's customers.
Beagle's CRM WizKids Awards represent a segment of the emerging market, a sampling of what is likely to become mainstream in the not too distant future. Past WizKids included Eloqua, Cast Iron Systems, Right Now Technologies and, of course, Salesforce.com.
"Totango's analytics and engagement management platform helps subscription providers to better understand their customers by analyzing usage patterns and deriving metrics that can predict churn and increased demand," stated Denis Pombriant, CEO of Beagle Research Group. "Subscription businesses can greatly improve profitability and avoid costly and unnecessary customer churn by acting on customer alerts about risks and opportunities."
For example, Totango has greatly improved the way Clarizen the customer success team prioritizes time with customers. Furthermore, they now have to ability to be alerted as soon as a customer situation changes for better or worse. Healthy and engaged customers have an average churn rate of 5% whereas those that are inactive churn at a rate of 55%. In the first three months after deploying Totango, Clarizen was able to move a large number of their customers into the "healthy and engaged" category.
"It's an honor to receive this recognition," shared Guy Nirpaz, co-founder and CEO of Totango. "We hope that the Wizkids awards will bring more awareness to the fact that software companies can and must transform into pro-customer companies urgently. Focusing on delivering customer value first, listening to customers in real-time and serving their needs pro-actively in a serious and professional way are all hallmarks of successful software giants of tomorrow. And we are here to help anybody who is ready to make the jump!"
About Totango
Totango is a full-service Customer Engagement Management solution for online businesses. We help create an active and engaged user base by combining big data analytics with powerful segmentation and engagement tools to allow online services to take the right actions with each customer in real-time. By focusing on customer usage and experience (the number one predictors of adoption, conversion and loyalty), end-users become more successful and happier – driving usage and adoption, increasing conversions, sales and lifetime values and reducing churn.
Empower your customer-facing teams with real-time visibility into user lifecycle activities and progression to identify users at risk of churn and maximize on opportunities.